looking for transportation and logistics operations at your fingertips? you want to keep your customers updated about the location of their consignment? want to monitor the movement of the fleet on a 24/7 basis? Well, you need to find answers for general questions for you own a transportation and logistics business.
Thankfully, mobile technology can assist you with custom mobile app solutions. You probably have heard about such solutions, therefore you may have some questions or doubts for the benefits and cost of a feature-rich transportation and logistics apps. In this post, we will discuss all the things that will help you to make a better decision while developing Transportation And Logistics App. 
Importance of Transportation and Logistics App Development
Gone are the days when customers waited for days to receive their consignment while contacting the logistic service providers occasionally. In today's data-driven world, the tech-savvy customers want to access all necessary information on the move. There, a mobile app development company can lend a helping hand for logistics and transportation business.
Logistics app development can help transporters to integrate technological advancements in their process and improve the customer's experience by providing real-time data anywhere and anytime. From controlling to managing the fleet is possible with feature-rich logistic applications. Let's discuss the major advantages of transportation and logistic mobile applications. 
Major Benefits of Mobile Apps for Transportation and Logistic Businesses –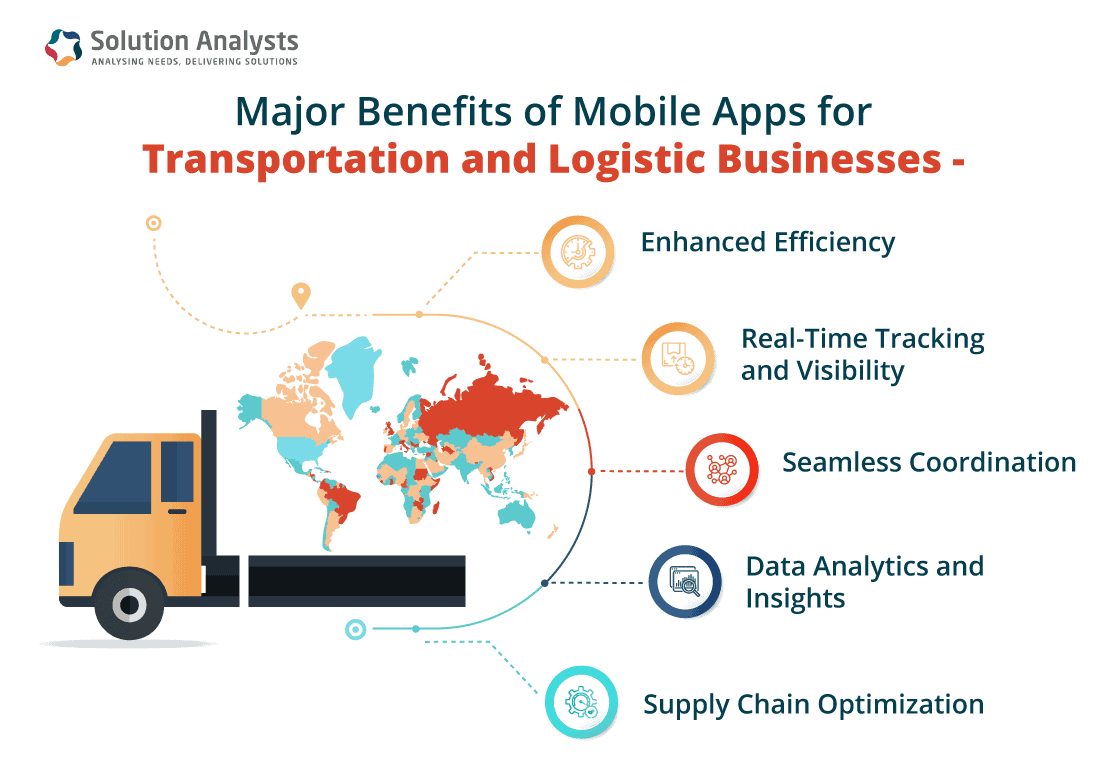 Transportation and logistic mobile applications help to streamline the different operational processes. It ensures to automate the different routes and provide real time tracking to the drivers. Mobile apps for transportation and logistics lead to increased efficiency in managing inventory, schedule deliveries, and reduce overall costing. 
Real-Time Tracking and Visibility
Mobile applications allow logistic and transportation businesses to track real time shipment, vehicle, and driver status. This provides customers and several entities to maintain accurate information and keep track of their goods that ensures to increase transparency and reduce delays. 
Mobile applications facilitate seamless communication between drivers, customers, and shippers. Instant apps, updates, and notifications help enterprises to coordinate effectively, exclude errors, and increase customer satisfaction.


Data Analytics and Insights
 Logistic mobile  apps can collect and analyse vast amounts of data, providing valuable insights into key performance indicators, demand patterns, and operational efficiency. These insights empower businesses to make data-driven decisions, optimise operations, and improve customer service.
Supply Chain Optimization
 App development in this industry facilitates supply chain optimization by integrating various stakeholders, optimizing routes, managing inventory, and ensuring timely deliveries. This leads to cost savings, reduced waste, and improved overall supply chain performance.
Types of Apps for Transportation and Logistics Industry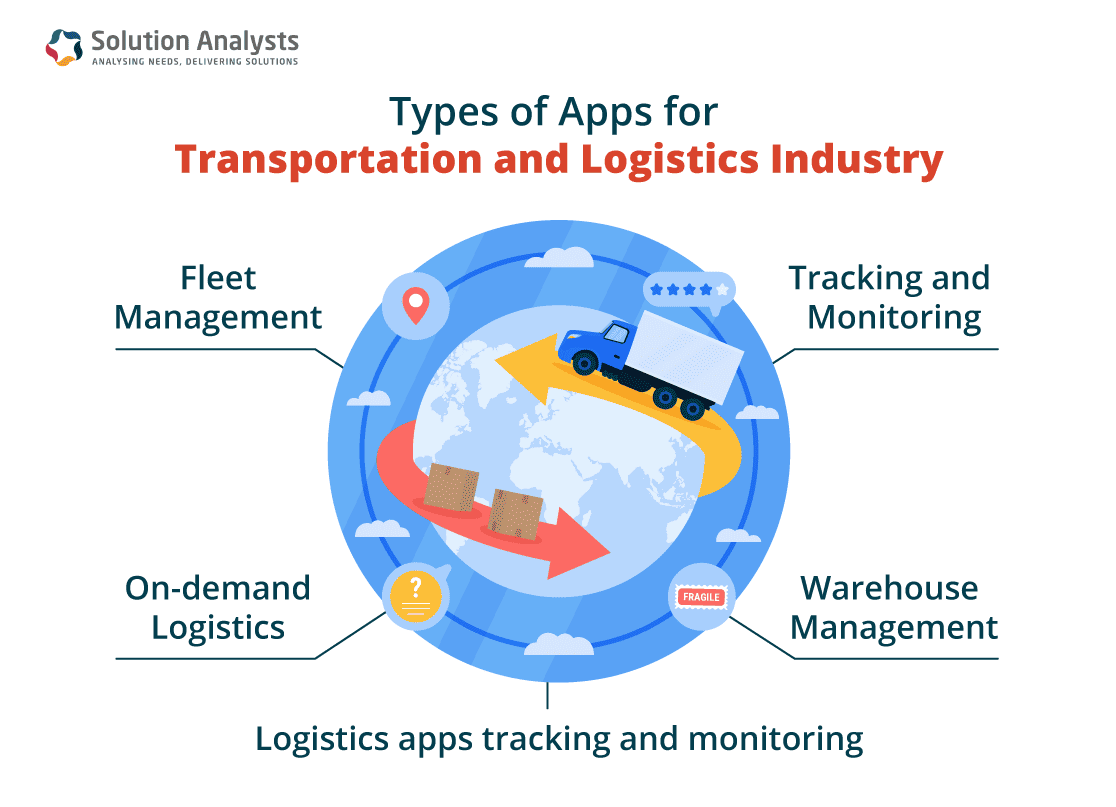 Fleet Management
This app collects fleet-related data and shows the real-time location of vehicles. You can manage the fleet through this one-stop mobile app solution.
On-demand Logistics
Your clients can use your logistics and transportation services as and when they want thanks to this app. It enables you to register orders on a 24/7 basis.
Warehouse Management
Warehouses play a significant role in managing transportation business. The warehouse management app is designed for simplifying the storage and overall warehouse-related process.
Tracking and Monitoring
This app enables you to monitor and track the driver's movement and give you an idea about the route. It is helpful to get real-time updates about the location.
Logistics apps tracking and monitoring
It is also possible to integrate these features into a single app. Now, as you have got the outline of types and scope of a logistic app, let's discuss the answers to the most common questions related to the transportation app development process.


Features App Development Company Integrate in Logistic  Mobile Applications ( Change this section with this ) 
Here are some key features for transportation apps targeting different user panels:
Customers:
User Registration: Allow customers to create accounts and manage their profiles within the app.

Booking and Scheduling: Enable users to book transportation services, select pickup and drop-off locations, and schedule rides in advance.

Real-time Tracking: Provide customers with real-time updates on the location and ETA of their assigned vehicle.

Fare Estimation: Offer fare estimation based on distance, time, and any additional charges to provide transparency to customers.

Multiple Payment Options: Integrate various payment methods, such as credit cards, mobile wallets, or cash, to offer flexibility to customers.

Reviews and Ratings: Allow customers to rate and review for  drivers and their overall experience, regarding promoting accountability and enhancing service quality.

Customer Support: Provide an in-app support system for customers to contact support agents, report issues, or ask queries.

Drivers:
Driver Registration: Allow drivers to create profiles, submit necessary documents, and undergo verification processes.

Ride Acceptance: Enable drivers to accept or decline ride requests based on their availability and proximity.

Navigation and Route Optimization: Integrate GPS navigation systems to assist drivers in finding the best routes, optimizing travel time, and avoiding traffic congestion.

Earnings and Reports: Provide drivers with an overview of their earnings, trip history, and performance reports for transparency and performance evaluation.

Driver Ratings: Enable customers to rate and provide feedback on drivers' performance, helping maintain service quality and accountability.

Driver Support: Offer a support system within the app for drivers to contact support agents, report issues, or seek assistance.

Driver Incentives and Bonuses: Implement a rewards system to motivate drivers and offer incentives based on performance or completing a certain number of rides.



Admins/Operators:
Dashboard and Analytics: Provide a centralized dashboard for admins/operators for managing and monitor the system, that including trip analytics, driver performance, and user statistics.

Driver Management: Enable admins to onboard and manage driver profiles, including verification processes and documentation.

Customer Support: Offer an admin panel for handling customer support queries, resolving issues, and managing refunds or complaints.

Pricing and Fare Management: Allow admins to set and manage pricing structures, surge pricing, and fare calculations based on different variables.

Notifications and Communication: Facilitate seamless communication with customers and drivers through push notifications, alerts, and announcements.

Reporting and Analytics: Generate comprehensive reports and analytics on key metrics like revenue, user engagement, driver performance, and market trends.

System Configuration and Settings: Provide admins with control over system configurations, settings, and customization options.

These features can vary based on the specific requirements of the transportation app and the target audience.
Which are the useful technology stacks to build a custom transportation app?
The transportation and logistics apps development services integrate various technology stacks to make a feature-rich app. Here is brief information on the most common technologies used.
Twilio for registration and authentication

PayPal for payment gateway

Twilio for push notification

MongoDB for storing data

Hadoop or other related technology for real-time analytics

AWS or Google Cloud for cloud-based storage
What is the approximate cost of a transportation and logistics app?
There is not any estimated transportation and logistic app development cost. It totally depends on the logistics and transportation businesses. The cost depends on several factors that include business needs, market trends, and integrated functionalities. 
Apart from this, logistic and transportation app development also varies with the different hiring models that companies prefer to hire for their businesses. 
At Solution Analysts, we help our clients to full fill all there needs with our two models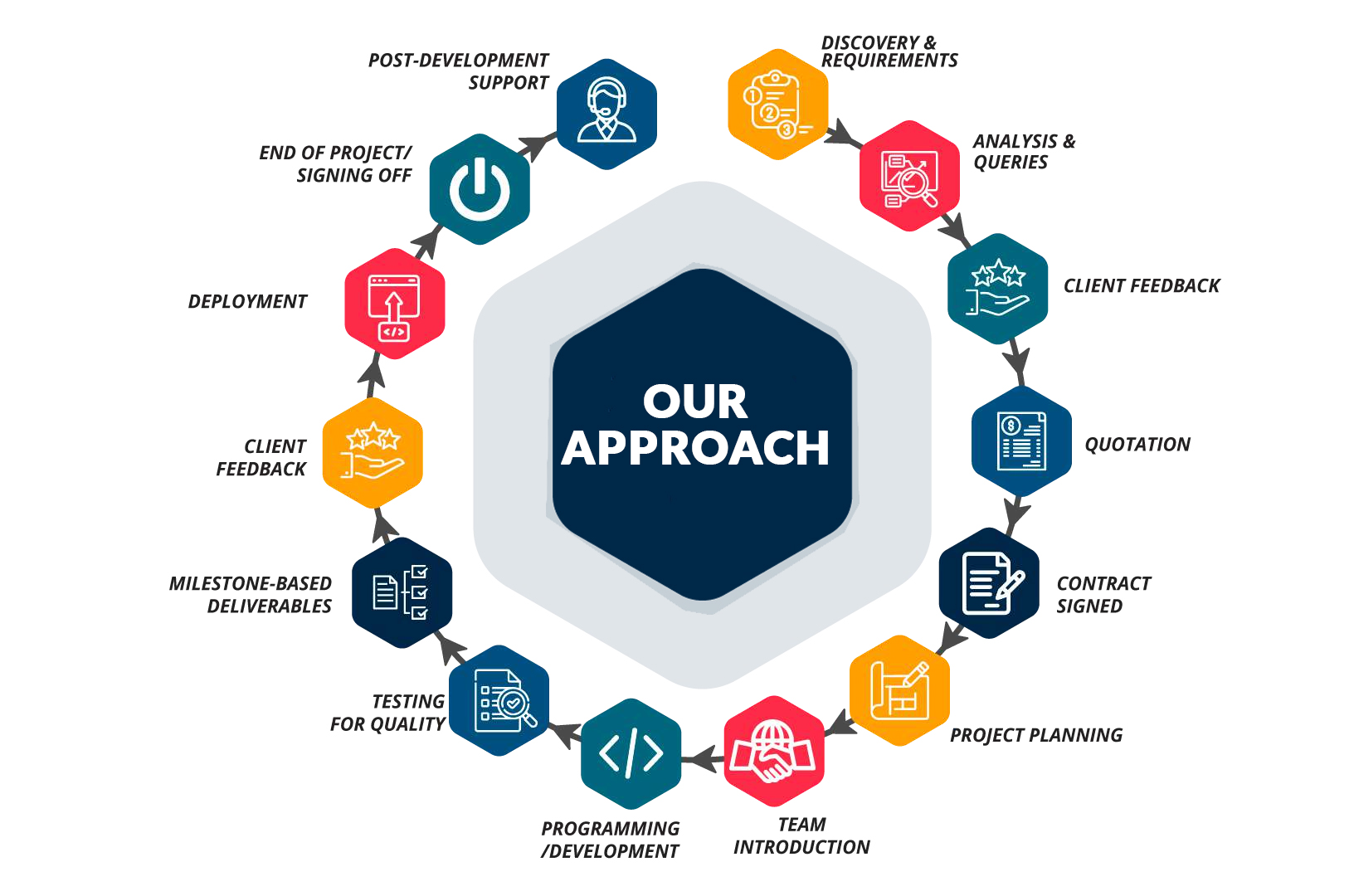 Wrapping Lines
Timely delivery and real-time notifications are two major objectives for a transportation business. Solution Analysts – the leading Logistics app development company can assist different companies to achieve these objectives and improved services. Your customers can get all necessary information on the move with such an app and ultimately, your business can thrive.