The logistics and transportation industry is highly complex as it involves numerous stakeholders, processes, and technologies. In navigating this complexity, businesses need efficient and effective tools, and logistics and transportation apps are suitable for such requirements. The modern apps provide real-time visibility into shipments, automate repetitive tasks, and improve communication between different parties involved in the supply chain. 
As we move forward, we are going to discover the advantages of logistics and transportation apps and how they can help businesses overcome common challenges.
Top Benefits of Logistics and Transportation App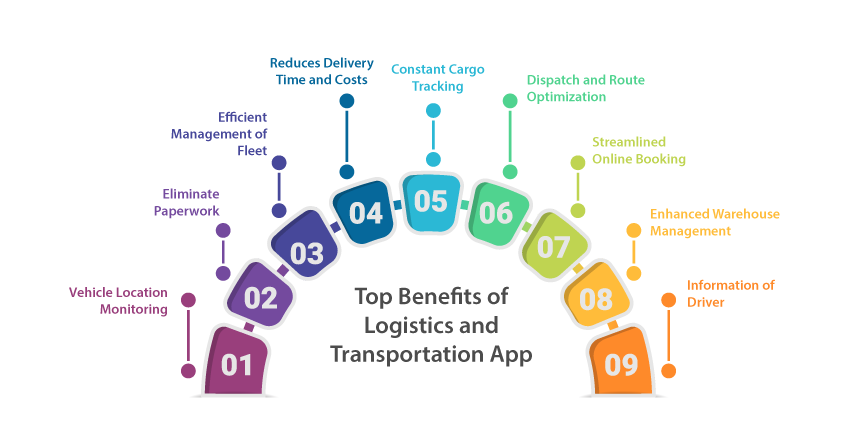 Logistics and transportation apps can help businesses of all sizes to operate more efficiently, save costs, and improve customer satisfaction. Here are the major benefits of using logistics and transportation apps.
Vehicle Location Monitoring
Most of the current logistics and transportation apps contain GPS technology. It uses mobile and satellite networks to track the location of vehicles. Therefore, the extensive coverage makes it easier to monitor vehicle's movement in an area at any time. 
An app can reduce the paperwork to a great extent with its automated methodology. Electronic databases and sending data online are possible with mobile apps. Furthermore, since the advent of on-demand mobile app development, it is easier to accept online payments, issue receipts, and maintain the electronic budget. In short, businesses can get rid of time-consuming paperwork. 
 Efficient Management of Fleet 
Logistics and transportation companies have a large number of fleets which are difficult to manage. The mobile app can collect, update, and store information about fleets including maintenance schedules, operating times, condition of brakes, engines, and many more. Overall a freight app can enhance the scheduling and quality of vehicle maintenance which contributes positively to the overall business. Thus, transport and logistics app development is crucial for businesses to make fleet management as efficient as possible. 
Reduces Delivery Time and Сosts
A mobile app for logistics enables anticipating fuel costs automatically, creating the plan accordingly, and minimising empty miles. All such aspects together can make the delivery affordable and faster. Therefore, logistics companies can boost their competitive advantages in the market. 
Developing a logistic app allows the tracking of every shipment. It enables businesses to be aware of where the parcel is going from the warehouse, in which area the vehicle is located, and the delivery date. Furthermore, businesses can also add the feature of cargo tracking in the customer's version of the app to maintain transparency and attracts even more customers. Technologies such as RFID/NFC and QR codes can be integrated into the app to track the cargo.
Also Read : Role Of Artificial Intelligence And Machine Learning In DevOps Transformation
Dispatch and Route Optimization
Mobile applications help in the optimization of shipping. Cutting-edge mobile apps can automate internal processes that facilitate the calculation of the most optimal route. Furthermore, route optimization helps in the dispatching schedule which minimizes downtime. 
Streamlined Online Booking
Many companies integrate online booking of parcels which allows customers to keep track of their order delivery. It helps in reducing the communication gap between the receiver and sender. For instance, people no longer need to visit the courier service centre to receive their parcels. They can see the progress of their courier delivery and save significant time. As a result, logistics enterprises can make more deliveries and give a boost to businesses. 
Enhanced Warehouse Management
The logistics and transportation industry also include the storage of parcels. Hence, logistics warehousing plays a crucial role, especially in the departure and arrival of cargo. With a logistics app, you can select the most suitable storage location for each parcel. Hence, workers would always know where every parcel is located, its routes and other related information. 

Mobile apps allow knowing information and the profile of each driver. The logistics app contains an extensive database of all employees which includes working hours, schedules, registration of fines or legal proceedings, or personal data. Hence, companies can integrate all the information regarding their employees in the app and generate the same whenever they want instead of going through any hassle. 

DevOps for Logistics and Transportation App
It's no surprise that DevOps in the mobile app development process is one of the sought-after practices which ensures that the application meets the diverse requirements of stakeholders.
One of the primary benefits of DevOps is that it promotes collaboration and communication between different teams involved in the app development process. 
DevOps fosters cross-functional collaboration, the involved teams can accelerate app development, reduce errors and ensure that the application meets the needs of all stakeholders. DevOps also enables faster and more frequent releases of the app. 
In the logistics and transportation industry, delays can have serious consequences, such as missed delivery deadlines or lost revenue. With DevOps, app development teams can automate build and deployment processes, conduct continuous testing, and deliver updates in shorter cycles. This approach allows businesses to respond quickly to changing market conditions and customer needs, ensuring that the app stays relevant and competitive.
Furthermore, DevOps practices can help to improve app performance and reliability. In the logistics and transportation industry, downtime or slow performance can cause significant disruptions to the supply chain. DevOps teams can use monitoring and analytics tools to identify and address performance issues before they become critical. By monitoring key metrics such as uptime, response time, and error rates, DevOps teams can ensure that the app remains available and responsive to users.
Wrapping Up
Logistics and transportation apps have transformed the way businesses manage their supply chain operations. As we have discussed in this blog, the benefits of logistics and transportation apps are numerous, including increased efficiency, vehicle tracking, and enhance warehouse satisfaction. However, to reap the full benefits of these apps, it is crucial to leverage DevOps practices during the app development process. 
DevOps culture can streamline collaboration, speed up releases, and improve app performance and reliability. By adopting DevOps and investing in logistics and transportation app development, businesses can gain a competitive advantage and drive growth in the ever-evolving logistics and transportation industry.
Solution Analysts is a leading DevOps development company with an extensive experience in creating high-performing and feature-rich native mobile and web applications for diverse industries.