Technology has evolved to a great extent which can smartly tackle routine tasks in the manufacturing sector. There are various ways through which users can reduce time and effort in repetitive tasks. One such way is integrating Robotic Process Automation solutions in manufacturing operations. 
RPA bots have been in the manufacturing industry for a few decades. Undoubtedly, RPA has streamlined and made repetitive production tasks easy. However, it has also made back-office processes error-free and effortless. RPA- based automation can handle various tasks and help manufacturers in achieving efficiency and productivity in their business. 
An annual Deloitte RPA survey stated the increasing usage of RPA in many organizations with its benefits. 
Let's begin first by understanding exactly what RPA is and why your manufacturing enterprise needs one.



What is RPA?
RPA, or robotic process automation, is a popular technology, utilized for building and executing bots. These bots are programmed to mimic human activity in interacting and performing repetitive and rule-based tasks. 
The ability of software bots to perform repetitive and mundane tasks with speed and accuracy has made it the best option to implement in many industries, and the manufacturing sector is no exception. 
The integration of RPA can be led to significant savings in time and effort, speed up task completion, and reduces human dependency to a great extent.
How RPA is Useful for Manufacturing Sector?
Manufacturing is an enormously big sector and can vary vastly in terms of internal operations and business requirements. Hence, automation plays a crucial role not only on factory floors but also in easing out various other processes. Manufacturing-based enterprises can utilize RPA to handle processes that require manual effort and labor with ease and precision. Hence, hiring Robotic Process Automation services can make it possible for enterprises to achieve increased productivity and profitability.
Inventory management, invoice verification, purchase order processing, regulatory compliance, customer service, and many more process can carry out efficiently by RPA. Automation of such important tasks in the manufacturing domain has let organizations worry less about repetitive tasks and focus more on valuable work which are fruitful for growth. 
Key Benefits of RPA in Manufacturing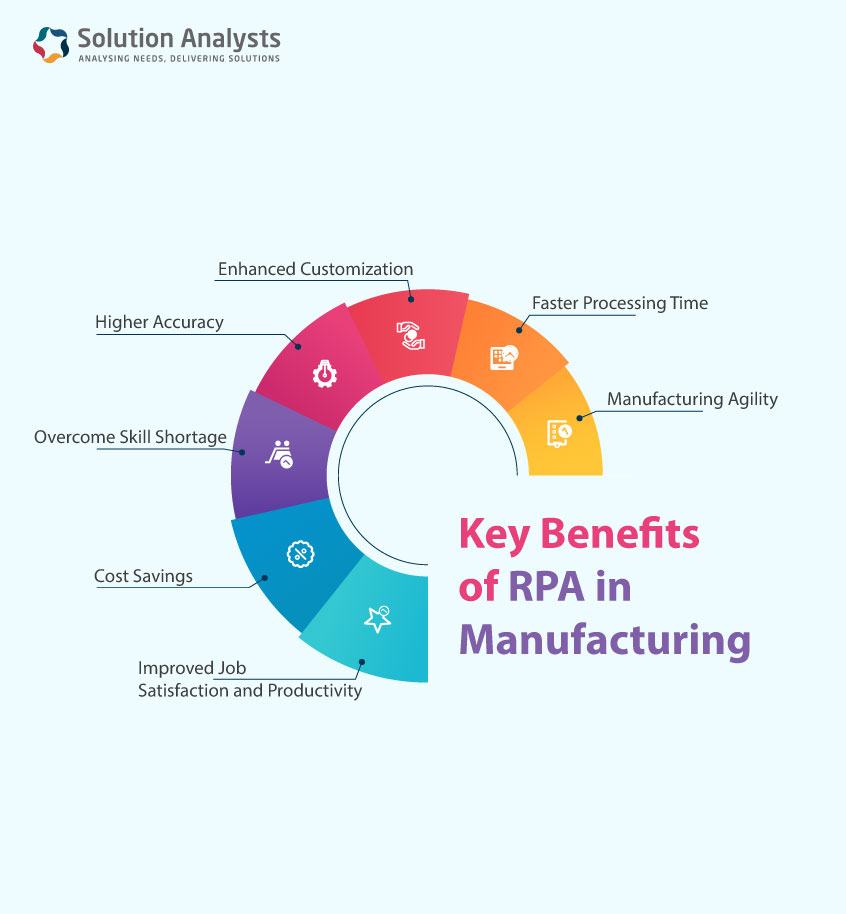 RPA bots have myriad benefits for the manufacturing industry. Routine tasks such as general ledger operations, quoting and invoicing suppliers, and accounts receivable and payable can benefit from robotic process automation. Hence, a large part of manufacturing tasks could gain benefits from RPA that can translate into significant cost savings for companies. 
Let's have a look at the major advantages of RPA in manufacturing. 
RPA is simple to set up without making major changes to the existing IT infrastructure. Even if a business has limited system experience, it can easily increase system capability and bring automation into manual tasks. Hence, the manufacturing processes become more agile and responsive to the ever-changing market scenario.
Automating routine tasks can help complete processes quickly and more efficiently. As there will be no more time lapses or approval waiting time with RPA-based automation as tasks can get completed on time. Moreover, it becomes easier to make informed decisions with the automated availability of data. For instance, legacy inventory management systems with the support of RPA help retailers quickly locate stockouts and reorder them on time. 
Since RPA is primarily for rule-based and repetitive tasks, it is easier to handle various routine manufacturing processes at a faster rate than human resources. For instance, if the user programs an RPA bot to review and classify inventory requisitions notes on a departmental basis; it can be further combined with ERP to achieve real-time inventory levels.
RPA is can automate everyday tasks which minimize the chances of errors in the maintenance of documents or completion of tasks. Hence, manufacturing companies can ensure high accuracy with RPA as manual processes are more prone to human errors. Businesses will no longer face costly financial losses after the integration of RPA. 

Like every technology, Robotic Process Automation solutions involve investment. However, it is highly reliable and well worth it. Finding skilled personnel to perform processes takes a lot of time, effort, and cost as well. At times, the search process also increases the workload on the enterprises. Therefore, it's better to do a one-time investment in RPA which can reduce dependency, eliminates delays, and increases business efficiency.
Manufacturing companies can achieve long-term cost savings from RPA platform integration. It includes only one-time charges for the initial setup and operation of the system. The company can save a significant amount of expenses over time, including the pay for physical labor and their insurance, maintenance, administration, and upkeep. The manufacturer even carries on with their operations without interruptions such as breaks or downtime.
Improved Job Satisfaction and Productivity 
Automating manufacturing processes can save a lot of time and effort for employees. Once the mundane and repetitive tasks are out of the way (as they will be automated), the workforce can focus more on valuable and innovative tasks which need greater attention. This can further contribute to increased job satisfaction and productivity. In turn, it results in improved real-time production for the organization.
RPA Use Cases in Manufacturing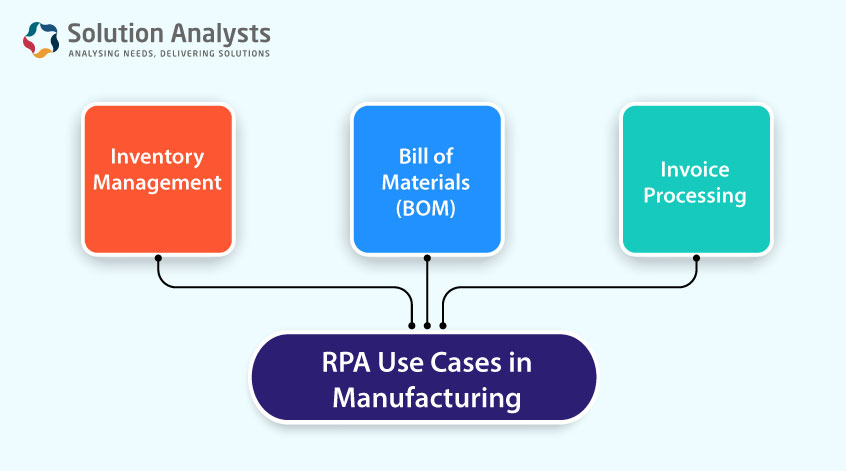 RPA can apply to automate various processes in the manufacturing sector. A few of these applications are listed below:
Inventory management encompasses right from stock auditing to tracking asset flow from the factory to the PoS (Point of Sales). RPA-based automation can offer managers real-time information about inventory levels. It further helps in monitoring inventories and making better decisions based on historical data.
RPA-based inventory management can improve operational efficiency, decreases costs, and enhances communication.
RPA can automate the various tasks within inventory management
Monitoring inventory levels

Orders placement

Receipt generation

Deliveries tracking

Responding to quotations and other queries emails
A Bill of Materials (BOM) is an important part of the manufacturing domain. It includes a detailed record of materials and components to create a new item or product. The primary role of BOM is to provide employees with information related to the upgradation or creation of new products.



BOM contains the record of raw materials, sub-assemblies, intermediate assemblies, important manufacturing components, parts, and the quantities of each component required to create the final product.
As RPA bots are programmed to generate data of products or elements and replicate human steps,  it also requires a bill of materials. Hence, new products can be expected to be built fast and without errors.
As Invoice Processing is a rule-based task, therefore RPA is the suitable choice for its automation. Invoice processing in the manufacturing sector requires coordination between multiple people. These people need to go through a high number of invoice checking and approving procedures. As invoices may have in different formats and languages, it increases the complexity of the process.
Extraction of invoice data, matching invoices with purchase orders, delivery receipts, identification of duplicate invoices, and updating records can be smoothly automated with RPA. Manufacturers can maintain smooth and strong relationships with their vendors through automated invoice processing. 
RPA software bots that can do more with invoice processing: 
Collecting specific data from invoices using OCR

Converting the generated data into a structured format

Check invoices against orders placed

Cross-check for any duplicates

Updating invoice records in the company's ERP
Conclusion
As RPA in digital transformation plays a crucial role, it is truly transforming the manufacturing sector into Industry 4.0. It offers enterprises new ways to improve various rule-based operations with job satisfaction of employees. It helps enterprises in reducing manual errors, speed up operations satisfaction, and ensure that deadlines are met. While the RPA is not for every kind of manufacturing task, it is still an excellent way to minimize the hours spent on ordinary, manual tasks.
Solution Analysts is a specialized RPA service provider company aiming to make modern enterprises ready for automation. We offer customized RPA solutions to assist companies in driving digital transformation.