The healthcare industry involves a wide variety of challenging tasks that require significant resource allocation, high operational costs, and slower process implementation. This is where RPA in healthcare industry comes in as it automates certain processes which ensures that healthcare professionals can focus on patient care rather than other tedious tasks. 
By leveraging Robotic Process Automation (RPA), healthcare organizations can automate a variety of processes such as appointment scheduling, prescription booking, and claims management. This automation alleviates the burden on employees and frees them from the weight of multiple complex tasks. Healthcare professionals can then use the power of automation and RPA to address patient needs more efficiently which leads to speeding up healthcare processes, improving system efficiency, and increasing patient satisfaction.
According to Precedence Research, the global RPA market in healthcare is expected to reach USD 6.2 billion by 2030 with a registered CAGR of 26.01%.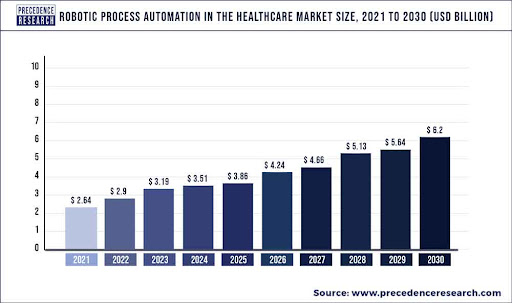 The Value of RPA in Healthcare Industry
Since the healthcare industry operates in a real-time environment that leaves no room for error or delay. Cumbersome and error-prone tasks can slow down processes and negatively impact every aspect of healthcare from cost structures to compliance and patient experience. Robotic Process Automation in healthcare provides a solution to these challenges by automating tasks, improving data accuracy and reporting, and enabling faster decision-making. As a result, healthcare organizations can save costs and effectively allocate resources to meet critical needs.
RPA is particularly effective at automating tasks that involve structured data and logic, and it relies on rule-based automation. Although RPA can also manage unstructured data sets, it requires the bot to extract data and utilize capabilities such as natural language processing (NLP) and optical character recognition (OCR) to create structured data.
When combined with artificial intelligence (AI), RPA solutions can create intelligent automation (IA) or cognitive automation. One of the biggest benefits of AI and RPA combination exists in mimicking human capabilities and actions through the use of bots for implementing intelligent automation. 
Key Use Cases of RPA in Healthcare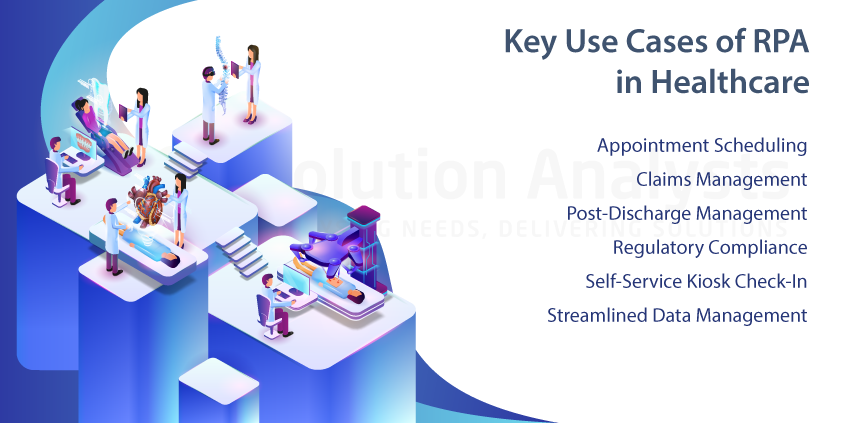 RPA in healthcare industry is used in a variety of ways for streamlining processes. Let's have a look at important RPA use cases in healthcare field. 
Appointment Scheduling
Scheduling is a tedious as well as error-prone task when there is a large number of appointments. Even with the availability of online booking options, the process often faces unintentional human errors. 
Fortunately, Robotic Process Automation (RPA) can streamline appointment scheduling by automating various related tasks. Using information such as the patient's request, the availability of doctors, and the location of the clinic, the RPA bot can offer patients available time slots with the specialist doctor, estimate the appointment duration, and remove the appointment slot in case of cancellation. 
The RPA bot also notifies both the patient and the doctor of any scheduling changes, which minimizes the need for human intervention in the appointment scheduling process.
Claims Management
Hospitals usually face the daunting task of managing numerous insurance claims on a daily basis when the number of patients increases. The manual transfer of information between the insurer's website and the hospital's revenue cycle management (RCM) system is mostly a tedious and time-consuming process for staff.
Hence, Robotic Process Automation (RPA) bots can streamline this process by automating the transfer of information between external systems, processing claim data, and updating the RCM or other applicable systems. According to McKinsey, healthcare organizations can achieve significant savings of up to 30% which empowers claim processing steps. 
Post-Discharge Management
Patients are often required to follow specific post-discharge guidelines and fill prescriptions once they discharge. Ensuring compliance with these guidelines is crucial for healthcare providers, but it can be a challenging and time-consuming task. For instance, patients may experience a range of side effects after surgery, like headaches or nausea, which may require prescription medications and follow-up appointments. In fact, most healthcare app development services are coming up with RPA-based applications for patients and hospitals in order to successfully implement post-discharge measures. 
Robotic Process Automation (RPA) bots can assist in ensuring that discharge guidelines are followed as intended and that patients are reminded of upcoming appointments and prescriptions. Such post-discharge management strategies are effective in improving HCAHPS scores and enhancing the overall patient experience.


Regulatory Compliance
The implementation of RPA in healthcare can offer significant benefits when it comes to compliance-related tasks. To eliminate the need for manual handling of paper documents for adverse event (AE) report creation, healthcare-based organizations can implement an RPA solution for AE management. It can result in an increase in productivity, improved employee satisfaction, and better response rates from healthcare professionals.
Moreover, RPA is also useful for compliance audits. RPA bots record every action taken and provide auditors with transparency and structured data for further analysis. RPA can also be configured to generate reports automatically and send them to the right managers and departments.
Implementing RPA in healthcare can improve compliance-related tasks and enhance productivity while reducing the errors and pressure on manual labour.
Self-Service Kiosk Check-In
In-hospital check-ins are crucial for many healthcare providers, hence leveraging RPA-enabled self-service kiosks is a smart decision. Patients can input their information into the kiosk upon arrival for triage by front-desk employees.
With advanced RPA software, bots can perform basic triage based on patients' conditions and statuses. It allows front-desk employees to receive a priority-organized list of patients, which reduces check-in times.
Furthermore, to enhance the patient experience by minimizing wait times, the integration of self-service kiosks is also an important step towards more efficient data collection.
Streamlined Data Management
Medical records are a crucial source of information for clinicians, but hospitals face challenges in maintaining updated data across all systems and departments, and manual data transfer between applications may result in errors and data breaches. For instance, when lab employees manually transfer medical test results to a patient's profile from the lab's system it often leans inaccuracies and potential data breaches.
RPA bots can automate this process and securely transfer results to relevant systems, ensuring data accuracy and reducing the risk of breaches. 
RPA also frees up employees from mundane tasks, keeps medical records updated, and improves data security as it stores only bot-related activity reports while keeping patient information confidential.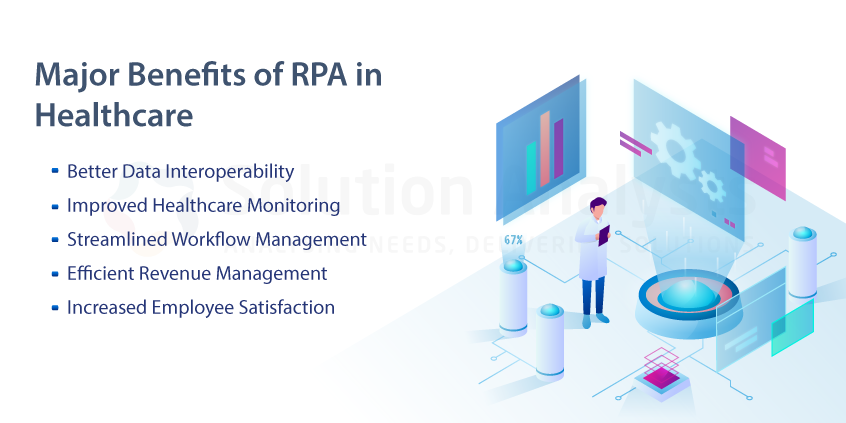 Major Benefits of RPA in Healthcare
The benefits of Robotic Process Automation for healthcare are many including increased efficiency, reduced costs, improved accuracy, and better patient outcomes which complete the tedious task seamlessly without any hindrance. 
Here are the top advantages of RPA in healthcare industry. 
Better Data Interoperability
By utilizing Artificial Intelligence (AI) technologies such as Machine Learning and Optical Character Recognition (OCR), healthcare organizations can establish a network of smart document processing which effortlessly collects information from any system and in any format. Hence, RPA when integrated with other automation technologies can facilitate more accessible data retrieval.
Improved Healthcare Monitoring
RPA bots can provide clinicians and healthcare professionals with real-time access to medical records which allows them to make better diagnoses and provide improved pre- and post-discharge treatments. However, by integrating AI technologies like Machine Learning and OCR, these bots can identify discrepancies and emergencies and generate alerts for patients, ensuring timely response and the right care for the patient.
Streamlined Workflow Management
Implementation of RPA in healthcare helps in enhancing healthcare workflows by reducing errors and minimizing manual intervention in various processes, ranging from patient scheduling to claims management. As RPA bots can perform repetitive tasks, healthcare employees can concentrate on delivering better patient care and adding more value to the overall process.
Efficient Revenue Management
RPA in healthcare is a great help to complex and dynamic billing criteria by seamlessly adapting to code changes, which can otherwise be burdensome for healthcare systems. RPA-based automation can simplify revenue management and billing processes which leads to quicker resolution of issues and improved customer satisfaction. By eliminating obstructions in healthcare claim management, RPA can improve the overall coherence of revenue cycles.
Increased Employee Satisfaction 
Relying on human workers to perform repetitive tasks can negatively impact their job satisfaction and increase employee turnover, leading to decreased productivity even during the hiring and onboarding process. RPA bots can reduce this issue by automating complex and tedious tasks, minimizing the workload on employees and improving their overall satisfaction.
The Ending Note
Executing RPA in Healthcare successfully requires a long-term vision that can identify the areas where automation can bring significant benefits, the available resources for implementation, and the possibility of partnerships to speed up the process with additional skills or resources. 
Solution Analysts offers Robotic Process Automation services which help businesses adopt a process automation strategy to fulfil long-term goals. Our services include RPA consulting, implementation, and maintenance, with a focus on delivering solutions that align with their client's business objectives.