Robotic Process Automation is gaining greatest prominence in enabling businesses to achieve digitalization goals. As a result, with the fair number integration of Robotic Process Automation solutions, any industry including Automotive can start their journey toward digitalization and realize values quickly. 
Envisioning the implementation of RPA in the automotive industry is no more surprising. In this evolving era, automotive companies have to manage a bundle of operations more efficiently than ever. Additionally, the scope of operations has been escalating with the time to attain more, which ultimately affects several implicated processes. Here Robotic Process Automation comes into the frame.
To undertake an ample list of tasks by humans can be a painful process for the vehicle industry. Plus, it leads to inefficiency, downfall of productivity and errands. With the right RPA and AI solutions, automotive businesses can scale and sustain as a result of performing error free automatic activities. Benefits of AI and RPA Combination can assist businesses to drive values in a short span.
Here is the data on the market size of the RPA in upcoming years.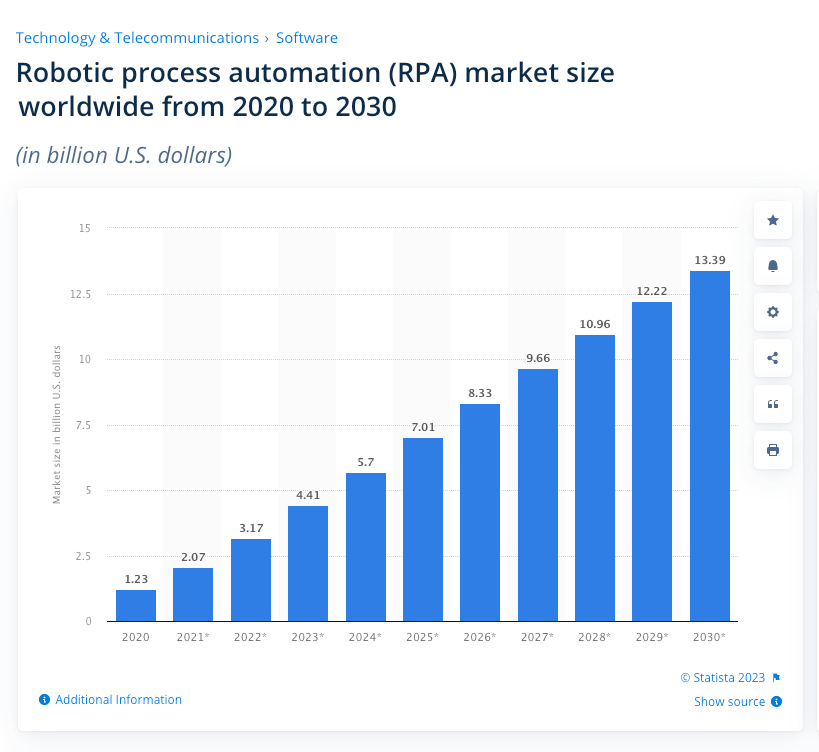 Before diving into the main topic of how RPA is transforming the automotive industry, let's get more clarity on RPA.
Brief of Robotic Process Automation (RPA)
RPA is known for automating several human-based activities or tasks. It developed by feeding a preprogrammed set of rules that is mainly in the form of tech-enabled robots or bots. This intelligent solution can perform varieties of operations on its own through the capabilities of recognizing characters, symbols, syntax, or other formats. 
Robotic process automation solutions can be integrated with any type of system or software. Moreover, can perform the task efficiently that was previously conducted by humans manually. The benefits of RPA over humans are: it is proficient to perform tasks around the clock by holding more accuracy and faster compared to the individual.  
Advent of RPA in the automotive industry can unlock new opportunities to grow by enabling automation in multiple areas. Let's see how, and what are those major areas..

RPA Focus on Key Areas of Automotive Industry in Next Two Years
Robotic Process Automation has become a game-changer tool in a short period of time. Automating rule-based activities or tasks, it enables vehicle manufacturing businesses to streamline complex processes, reduce wastage, and enhance efficiency and productivity altogether.
In this blog, we are going to discuss how RPA is going to automate various time-consuming and repetitive tasks in the next few years.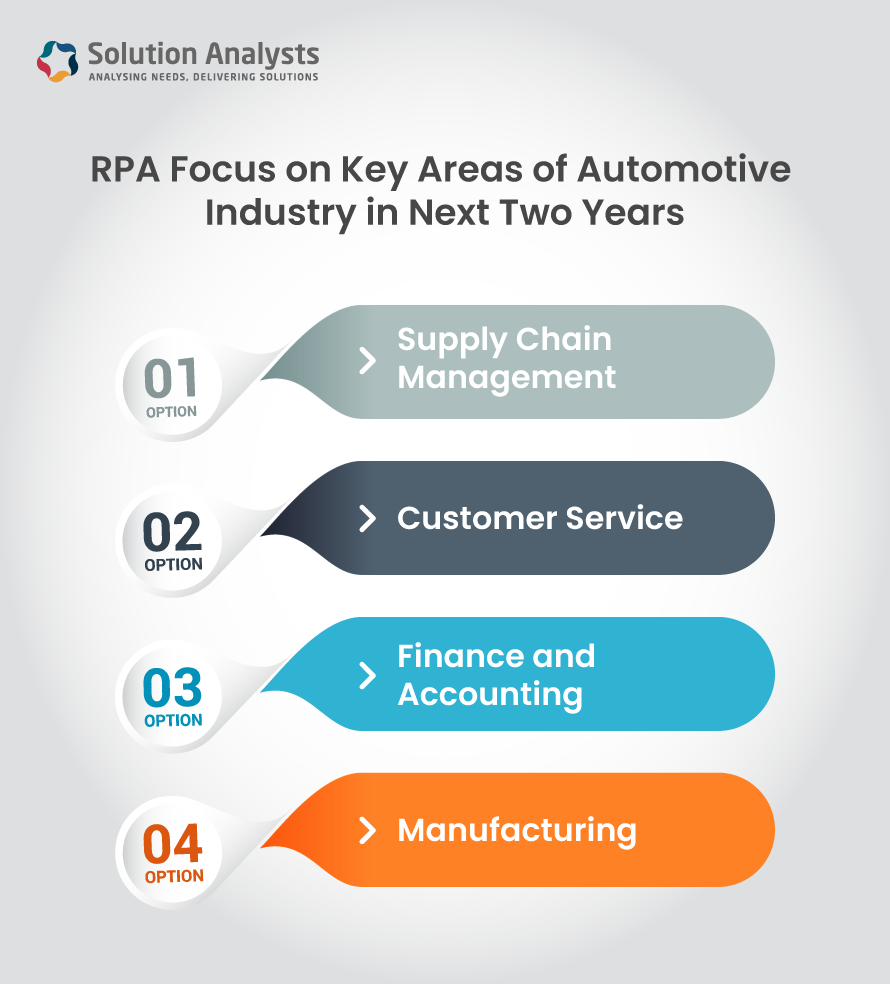 1) Supply Chain Management
RPA in automotive industry can play a significant role in the area of supply chain management in order to optimize and streamline internal processes. From the initial stage of taking orders to the top stage of supplying to the respective customers, RPA has capabilities to contribute in every phase of the supply chain management, let's see how..
The scope of RPA in the order process begins by automatically extracting data directly from the order submission for subsequent processes. Elimination of human involvement in the course of gathering data manually decreases the possibility of mistakes and boosts productivity. Additionally, RPA adds value to validating the order, generating invoices, and sending confirmation emails through its defined intelligence.

Robotic process automation has the ability to effectively optimize routes and actively participate in the act of scheduling for shipment. Also, it can automatically generate shipment labels and documents. This whole procedure reduces the time to the market and provides a higher degree of accuracy.

In the automotive industry focusing on quality is one of the major tasks to execute. With RPA, vehicle manufacturing companies can automate the testing and product inception approach and ensure the high quality of components.
2) Customer Service
Automating customer services, RPA is upgrading the level of treating their customers well. By incorporating automation factors into the various processes and activities that come under the area of offering high-class customer services, automotive businesses can maintain healthy customer relationships.
As its development takes place with the rule-based theory, thus, RPA bots are capable of quickly responding to specific custom queries or inquiries. This frees up the support team and permits them to look into more critical and complex issues with all their attention. Another key point is RPA can take continuous follow-up with customers after their interaction with customers.
3) Finance and Accounting
Proficient handling of accounting and finance always be the core of any industry including the automotive industry. With RPA, financial reports and statements can be automatically generated based on data from a variety of sources. As a result, financial reporting can be more accurate and consistent, saving time and improving accuracy.
Besides, for enabling automotive businesses to make much better decisions regarding finance, RPA can provide identified trends, analysis and recommended actions. Using RPA in automotive industry can automate processes such as generating required documents and reports, or assessing risk. This can help businesses avoid costly fines and penalties.
4) Manufacturing
In the manufacturing and production area which consist of managing a huge list of the components and BOM (bill of material) included in the process of developing the vehicles. The entire process is so painful as the team has to ensure every part is available in the right quantity.
With RPA, automotive businesses can bring automation into the course of handling BOM. An RPA-based solution capable of updating and maintaining BOM, which can be time-consuming and error-prone activities when it is executed by human beings. 
Additionally, RPA can automate the process of tracking and managing the inventory of components and parts. This can help automotive manufacturers to ensure that they always have the right components on hand and can avoid stock outs or delays caused by missing parts.
Concluding Lines on RPA in Automotive Industry
The primary characteristics of robotic process automation: Manual processes, High-volume work, Repetitive tasks, Rule-based decisions with minimal deviations, and Probability of error. With its magical abilities, Robotic Process Automation Services providers are utilizing it in the automotive industry to optimize multiple areas and bring value to businesses.
Invest in innovation with RPA and get competitive advantages for many years with Solution Analysts. We hold specialization in providing RPA solutions development and implementation. Moreover, our experts completely take care of training and support activities to make the entire process hurdle free for customers. Consult our expert right away!