The Healthcare sector is one of the largest and fast-growing industries. Along with it is continuing to rise up to new challenges such as high cost and high volume, and stringent regulation. Just like other industries, the healthcare sector is also untouched by the power of emerging technologies like Robotic Process Automation solutions and leverages them to drive the next level of efficiency. 
Healthcare organizations inhold a bundle of processes and repetitive tasks, which is the primary reason for rising new challenges. Procedures like collecting bills, patient onboarding, collecting patient data, and providing descriptions are traditionally done manually. And here, RPA comes into the frame. 
The introduction of Robotic Process Automation services in the healthcare sector will have a significant impact on the respective organization and clinics. Robotic process automation service providers can offer feasible solutions for several concerns and make the healthcare industry to achieve factors like operational efficiency. Let's know how many ways RPA can contribute to the healthcare sector.

Use Case of Robotic Process Automation (RPA) in Healthcare Industry
As mentioned above, the healthcare industry involves a lot of repetitive work and data-based operations. Moreover, it operates in real-time without carelessness. Thus, executing mundane and repetitive tasks that demand a higher degree of attention to complete without a mistake. This kind of error-prone task actually slows down the execution of the entire process.
Robotic process automation solutions enhance efficiency by automating recurring tasks that improve data accuracy and enable to make decisions more quickly. This ultimately reduces the operational cost and saves employees time and effort to empower them to contribute more toward critical activities.
Here are some use cases of RPA in the healthcare sector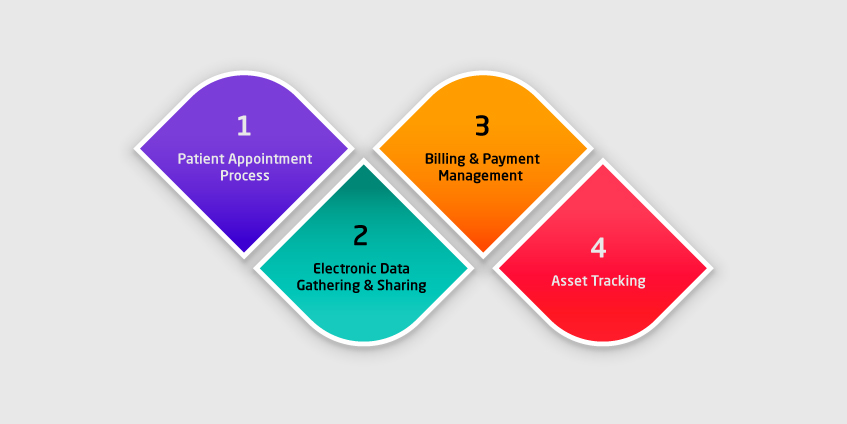 Use Case 1: Patient Appointment Process
The modern era is recognized for its digitization since everything and every procedure can be completed using any device and an internet connection. Similarly, patients often prefer to schedule appointments online. Thus, scheduling appointments is no longer an unusual activity, but by integrating RPA-based solutions, the healthcare sector can further streamline the process.
Imagine the scenario where a patient schedules an appointment, but on the other hand, the doctor whose appointment the patient has scheduled is unavailable for that particular time duration. We can say the process is not fully streamlined. Now, introducing RPA solutions for scheduling appointment processes empower patients to make appointments as per the availability of the doctor. To align patient appointments with the doctor's availability, the solution also updates a doctor regarding upcoming appointments along with previous pathology reports.
Use Case 2: Electronic Data Gathering and Sharing
Lots of healthcare processes rely on data and records in order to accomplish the task. Healthcare service providers receive this data from different sources such as through GPS, third-party portals, appointment scheduling systems, and insurance companies. Consequently, handling a huge database is never a centralized process. It requires the right resources with the right talent.
RPA solutions can play a key role to automate the entire process and reduce labor work, enhance process efficiency, and diminish the human-error ratio. As per the research, the healthcare sector is going to spend approximately $1.2 to improve poorly performed data management processes. Besides, RPA solutions also ensure the data is shared within established rules and regulations, by getting access rights.
Use Case 3: Billing and Payment Management 
Finance is another main factor in any industry, and managing it accurately & quickly is important. Likewise, the healthcare industry is also struggling to streamline the payment and billing management process. On the other hand, aligning a payment process with patient claims increases the complexity which requires more human attention, effort, and time to accomplish accurately. The process involves multiple stages including gathering input data, processing, evaluation, and dealing with the appeal. Manually handling the entire procedure can cause a slowdown of the process, be error-prone and bring inefficiency.


Leveraging RPA solutions in healthcare services can empower the entire industry to streamline the end-to-end payment, billing, and claim processes which require minimum human intervention. Moreover, the robotic process automation solutions will take approximately 12 seconds to proceed and complete the claim procedure. This means a robot can do the work of 9 full time employees all alone without a single error.
Use Case 4: Asset Tracking
The integration of legacy systems, various technological partners, and manual procedures still provide difficulties for hospitals. Hospitals that handle investments and assets employ a sizable workforce and struggle with cost growth and operational effectiveness.
But new opportunities have emerged in the form of robotic process automation solutions. This, in terms of tackling operational effectiveness and cost inefficiencies, can be useful in the asset management space. For example, RPA-based check-in, and check-out solutions enable effectively managing the stock and inventory with no time. 
Concluding Lines:
The scope of RPA in the digital transformation of the healthcare industry is huge. There are robotic process automation services providers that completely adopted this technology and leveraged its power to transform the way the healthcare sector operates and enjoy unimaginable outcomes. If you are wondering to partner with the most trusted healthcare app development services provider? Then Solution Analysts is the right place for you.
By keeping in mind the evolving needs of the healthcare industry, we provide a solution that helps health organizations to address multiple challenges. Our RPA development service includes: RPA Consulting Solutions, RPA Design & Implementation, and Automation Support Services.
Get in touch with us to explore RPA solutions for the healthcare sector that are specially designed to enhance operating models, diminish the complexity of various processes and improve business performance.