Google has brought an open-source JavaScript framework for creating various interactive elements for corporate websites. This robust framework is AngularJS and it is capable of developing single-page applications and customized web solutions. 
AngularJS development services enable entrepreneurs and business persons to come up with seamless web applications with desired features. 
In this article, we are going to discuss the key reasons why it is preferable to hire AngularJS developers for your upcoming project. Today, some of the big names like PayPal, Udemy, Amazon, and even Gmail count upon AngularJS for their web applications. 
This framework has multiple features including high productivity, routing, deep linking, and dependency injection. It offers both speed and performance while developing customized web apps.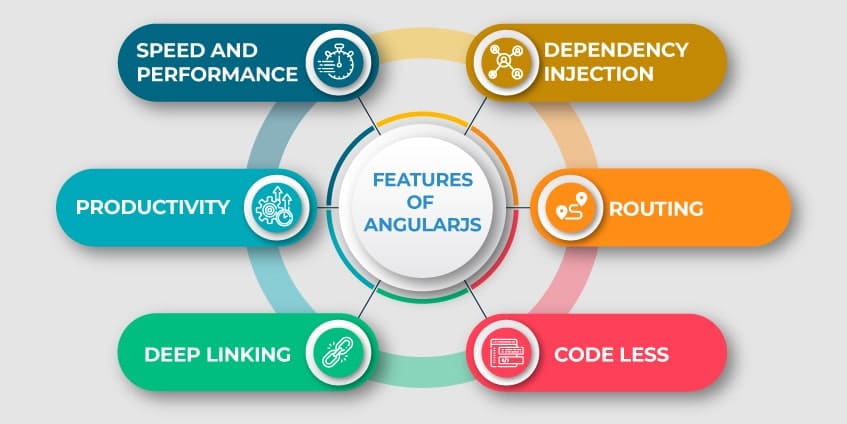 Here are the top reasons why AngularJS is a preferred choice for web app development in the year 2021 and beyond. 
Top Benefits of AngularJS Development Services
When it comes to developing dynamic web apps for modern enterprises, both entrepreneurs and developers prefer the AngularJS framework. Here are some of the top reasons for it.
Two-way Binding
AngularJS has an MVC (Model View Controller) architecture. The framework extends immediate synchronization of both model and view concepts. 
Simply put, the platform reflects any data altered in the model in the view. Similarly, any change in the view data is revised in the model automatically. 
This two-way data binding can simplify the presentation layer in application and leads a less invasive and simple approach to DOM display. 
As a result, when you hire AngularJS developers for web app development, they can come up with an excellent user interface.
Easy to Extend
AngularJS is an easy-to-understand framework for developers who know JavaScript, HTML, and CSS. It can open up many opportunities for web developers and makes it easy to customize or extend as and when necessary. 
An ever-increasing community of active developers also contributes to building complex and robust web applications. 
Easily extendable and customizable AngularJS framework enables developers to bring feature-rich web applications to meet the complexities of modern enterprises. 

Declarative User Interface
The AngularJS framework is useful for creating HTML-based templates. It is also known as a declarative language because of its high scalability, flexibility, and intuitiveness. 
What's more, AngularJS has specific attributes and useful elements including filters, ng-model, ng-repeat, ng-app, and form controls to improve web application development process. 
Dedicated AngularJS programmers can make things more understandable and customize them by using a declarative user interface. 
HTML enables web designers and developers to work together. On one hand, designers can create interactive and engaging UIs and on the other hand, developers can connect these components by using declarative binding syntax. 
Support for SPA 
AngularJS is a framework for developing Single Page Applications (SPAs). SPAs are aimed at functioning like a native application by facilitating the smooth transition of web pages. 
When the website interacts with a web browser by dynamically replacing the current web page with new webserver data to load new pages, it is known as a Single Page Application (SPA). 
AngularJS developers can make SPAs for ensuring faster loading of pages across multiple platforms. Such SPAs offer excellent user experience and are easy to maintain for companies. 
Also Read- Key Reasons to Consider Angular for Progressive Web App Development
Easy Customization
This is one of the biggest benefits of AngularJS web app development. The framework is highly flexible and scalable that offers easy customization for existing web applications. 
You can hire dedicated developers to add or modify the necessary features and functionality in your corporate application. Also, you can easily find AngularJS developers as and when necessary because of the growing popularity of this platform. 
No Hardware Necessary
AngularJS is a JavaScript-based, open-source web development framework. It does not require any hardware because it is fully extensible and supports other libraries as well.  
Finally, AngularJS has Google support. A dedicated team of engineers at Google comes up with new improvements in newer versions of the platform. Google's backing gives a lot of credibility to AngularJS and more web app development service providers 
Let's go through a few tips that can help you hire dedicated Angular programmers. You can simply shortlist some reputed and renowned web app development companies and apply these tips to get a smart AngularJS team. 
How to Select the Right AngularJS Development Company?
Hiring your team of dedicated AngularJS programmers is a tough task especially when many web app development services providers are around. Here are some of the useful tips to follow to get the right team for your upcoming web project.  
Ask for Experience
Experience is the key to build robust and user-friendly web solutions. A team consists of experienced developers works wonders by developing high-end web solutions. The more the experience of the team, the better will be the performance and outcome of the team of developers. 
Check for Expertise 
Another important aspect to consider is expertise. Experienced developers have higher expertise and they may have worked on similar projects like your project. As a result, you can expect an optimum solution with desired features afters selecting expert developers. 
Find Time-zone Difference
Time-zone difference plays a crucial role in accomplishing projects on time and reducing TTM (Time to Market). This difference is beneficial for developers and entrepreneurs alike as they can meet the deadline with ease. 
Also, when you opt for outsourcing your web projects in countries like India, you can also get the benefit of a reduced cost of app development thanks to less hourly rates for developers.   
Focus on Communication
AngularJS programmers you hire should be capable of communicating effectively in your language. You can opt for an interview to find out the communication skills of developers you want to hire. 
It is fair to mention that effective communication can lead you to the timely completion of projects with all the necessary features and functionality. 
Concluding Lines
AngularJS is a preferred framework for developing customized, enterprise-grade web applications for companies across different industry sectors. All you need to hire dedicated Angular programmers to build user-friendly solutions. 
You can check whether the web development services provider is updated with the latest version of Angular and has experience in developing future-ready solutions. 
We are a leading AngularJS development company in USA and India. Our in-house developers can build single-page applications, corporate websites, and other customized web solutions with desired features using the AngularJS platform. 
We assist modern enterprises to meet challenges while simplifying the complexities and offer a competitive edge over peers. Even startups and SMEs can also leverage the benefits of our advanced web and mobile app solutions in a cost-effective way.