In a current fast-paced world, businesses that rely on transportation for their operations face numerous challenges in managing their fleets effectively. Whether it's a logistics company, a delivery service, or a construction firm with a fleet of vehicles, utilising robust fleet management software can streamline operations, optimise resources, and enhance overall efficiency. 
As per Fortune Business Insights, the global fleet management software market is likely to grow from USD 23.67 billion in 2023 to USD 79.82 billion by 2030 with a CAGR of 19%. 
Let's dive in and discover the various aspects of the fleet management system.
What is Fleet Management Software?
Fleet management software encompasses a range of tools utilized by organizations to streamline the efficient management of their vehicle fleets. The main objective of fleet management software is to collect and analyze data from various sources which enables businesses to optimize their operations and reduce operational expenses.
Fleet management software includes a wide range of features, including GPS vehicle tracking, fuel monitoring, maintenance scheduling, driver management, automated vehicle assignment, and real-time reporting. With a custom fleet management application businesses can enhance their vehicle tracking, which results in improved fuel efficiency, strengthened safety measures, and reduced maintenance expenditures.
Whether it's logistics, government, or transportation business of any size with a limited number of vehicles, they can leverage transportation management software.
How to Develop Fleet Management Software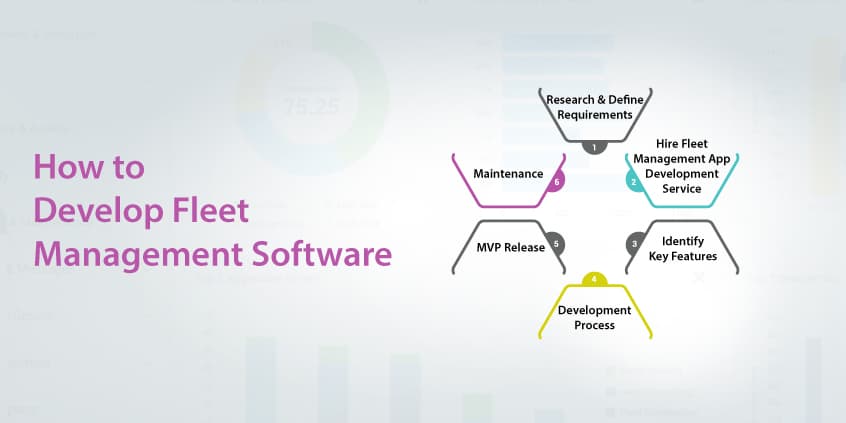 Fleet management software development requires a systematic approach to adding features that align with the organization's requirements. 
Here are steps to develop fleet management software. 
Step 1: Research and Define Requirements
Initiate researching and defining the software requirements and business goals. Identify the challenges you aim to address. Such research also helps determine the appropriate tech stack for the project.
Step 2: Hire Fleet Management App Development Service
To ensure a successful development process, hire a dedicated fleet management company with proven expertise. Their experience in building custom fleet management mobile apps will save time and resources.
Step 3: Identify Key Features
Identify the key features necessary for optimizing business processes. Start with a minimum viable product (MVP) that includes only the essential features to enhance performance. A prototype or MVP enables validation of the concept without investing heavily in a fully developed application. As the product generates profit, businesses can reinvest it into developing additional features.
Step 4: Development Process
This stage includes designing, developing, testing, and deploying as per the requirements. Quality assurance engineers perform multiple tests to ensure bug-free and fully functional software. A product demo is prepared for testing the software's functionality, and it is released if it meets the required standards.
Step 5: MVP Release
After development, the MVP can be launched in the markets to test the entire concept of the project. This step helps identify any weaknesses or areas for improvement based on user feedback which helps in the continuous development app.
Step 6: Maintenance
Once the software is built and released, it is important to consider ongoing maintenance. Regular updates and maintenance are necessary to ensure the longevity of the product over the years.
By following these steps, organizations can effectively develop and maintain their vehicle fleet management software to optimize their operations and achieve their desired goals.
Fleet Management Software Features



For efficient administration, smooth performance, and improved service quality, these are the list of standard fleet management software features. 
This feature focuses on efficient monitoring and utilizing the company's assets while reducing operational and financial risks. It ensures that the information related to vehicle assets is accessible and updated to reflect the latest changes. 
It is a feature for optimizing pricing. The usage of quotation is handling vehicle configurations, and attaching relevant products or services to generate quotes for both new and used vehicles. It is further used for calculating rates based on selected parameters and durations which allows accurate transportation quotes to prevent hidden costs.
The fleet control system for vehicle purchases enhances visibility into the procurement process. It is helpful in selecting the right suppliers, negotiating optimal pricing, and ensuring timely delivery. This feature streamlines procurement, covering preparation, strategy, and control stages, hence preventing tiresome paperwork.
As converting prospects into clients is a crucial business requirement, hence this feature collects essential details such as contact information, service needs, fleet size, and financial aspects. It facilitates seamless management of future sales qualifications which enables organizations to explore the changing market requirements and grab new opportunities.
In the transportation domain, contracts undergo frequent changes and revisions. Hence, this feature manages contract rewrites, amendments, and terminations with payment scheduling and billing transactions. Effective contract management ensures that the business procures the most competitive services and products in the market. 
This feature is primarily for accounting processes, billing, orders, financial record storage, and payment transaction monitoring. Billing patterns are affected by individual customers or billing types, and integration with the general ledger is seamless.


The feature is used to monitor all aspects of vehicle licensing. It tracks new licenses, duplicates, expiry dates, and renewals, allowing for instant data access as needed. This feature ensures compliance by tracking each vehicle's licensing status and preventing unlicensed vehicles on the road.
This feature includes all processes involving drivers such as license checks, working schedule formation, and monitoring driver behaviour. This feature aims to establish safety standards and ensure compliance with relevant regulations.
This feature involves data on maintenance history, schedules required repairs, monitors service rates, and defines maintenance budgets for each vehicle. It manages both contracted and non-contracted repair services, hence facilitating comprehensive monitoring of operations and expenses. 
Fuel expenses constitute a significant portion of overall costs for companies with fleets. Hence, this feature helps in managing fuel cards, logging transaction history, and monitoring fuel consumption. 
It tracks the history of parking and traffic violations, fine payments, and tag registrations. Also, this feature maintains records of penalties and offences for each vehicle and driver which facilitates improved response times, reduced speeding fines, and prevent additional charges.
This feature handles both in-house incidents and accidents, recording details such as damage, images, estimates, and more. It enables monitoring of total losses, uninsured loss recovery, and insurance claims. 
This feature facilitates communication between clients, suppliers, and internal staff. It manages diary actions, including emailing, messaging, correspondence, and reporting. 
This feature handles disposal requests, sales lists, and received offers and maintains records of disposal vehicles. It enables organizations to maximize returns during the disposal process and accept the most profitable offers. 
To create such a feature-rich app, contact a vehicle and logistics app development company in USA for the best service. 
Top Benefits of Fleet Management Software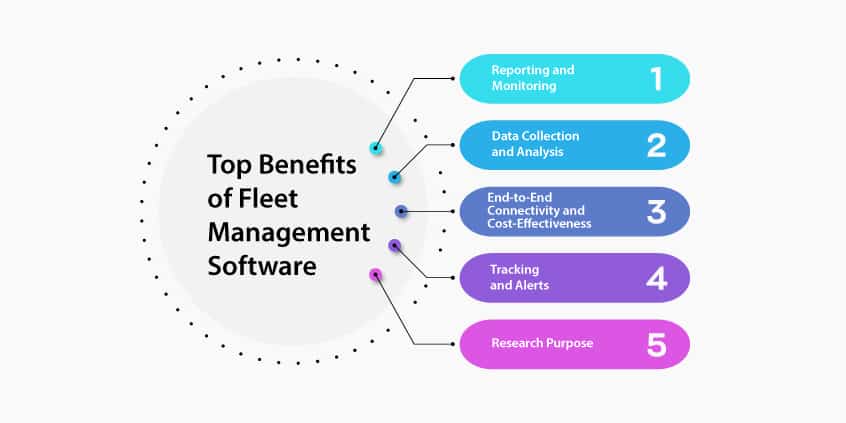 Implementing a fleet management system offers numerous benefits for businesses, including:
1. Enhanced Efficiency
Fleet management apps can automate tasks such as scheduling, dispatching, and vehicle utilization. As a result, businesses can streamline their vehicle operations as well as improve overall efficiency.
2. Cost Reduction
Real-time tracking of vehicles facilitates close monitoring of fuel usage, reducing maintenance expenses, and maximizing asset utilization which results in significant cost savings.
3. Improved Safety
The fleet management software provides essential tools to adhere to safety regulations and promote safe driving practices, which enhances overall safety for drivers and vehicles.
4. Superior Customer Service
By providing real-time information on delivery status, businesses can offer customers accurate arrival times which leads to improved customer satisfaction and an enhanced customer service experience.
5. Compliance with Regulations
With the help of fleet management software, monitoring tools for maintenance, inspections, and other regulatory mandates become easy. Hence, businesses can ensure regulatory compliance which prevents costly penalties.
Wrapping Up
Developing fleet management software is a multifaceted task that requires a diverse set of skills. Therefore, it is essential to hire a reputable Fleet Management App development company to obtain such an application. It is crucial to collaborate with development companies with official licensing to achieve cutting-edge fleet development apps. 
For those seeking to enhance their competitive edge, opting for a custom fleet management system is highly recommended. If you are interested in obtaining high-quality custom fleet management software, reach out to Solution Analysts. We will be delighted to assess your project and assist you in selecting a suitable development process.


FAQ
What is Fleet Management?
Fleet management is the entire process of monitoring business operations, vehicle maintenance, and the overall performance of a fleet. This complex task is implemented by the use of effective fleet management software, which offers efficient automation to the overall workflow.  
What is Fleet Management Software?
Fleet management software enables users to monitor shipments and inventory, optimize delivery routes, schedule shipments, and mitigate risk factors. It effectively reduces operational costs, fuel consumption, and delivery times.
What does Fleet Management software do?
The fleet management software encompasses all the actions to ensure its efficient operation, punctuality, and adherence to budgetary constraints for seamless fleet management. It involves features through which fleet managers can monitor fleet activities, dispatch and plan vehicle routes, as well as procure and retire vehicles.

Why do businesses need fleet management software? 
Effective fleet management software plays a vital role in ensuring the seamless operation of vehicle fleets. To efficiently control costs and maintain the optimal condition of the vehicles, it is beneficial to monitor factors such as vehicle location, condition, maintenance schedules, and fuel consumption.