Just like other industries, travel & hospitality are undergoing technological evolution. Advancement into existing business models and enhancing customer experience by leveraging emerging technologies like Artificial Intelligence introduces a new level of disruption. AI in hospitality industry has become a driving force for bringing innovation, growth, and increased revenue.
Undoubtedly, the traveling and hospitality industry embraces modern technology along with a high degree of Machine learning & Artificial intelligence. AI plays a significant role in the course of offering extensive opportunities to enhance marketing efforts, deliver improved customer experiences and services, and boost customer retention rates.
There are some other significant impacts AI is making in the process of serving guests and performing hospitality operations more efficiently than ever. Consequently, hospitality businesses progressively realize the benefits of artificial intelligence in their daily operations.
According to Global Market Estimates Report, the AI in Hospitality Market will experience a growth rate of approximately 10% during the forecast period of 2021 to 2026.
Let's see the importance of Artificial Intelligence in hospitality Industry.
Key Driving Factors of AI in Hospitality Industry
Artificial intelligence is gaining increasing importance as it enables improved data analytics, the analysis of customer behavior, and the delivery of customized, high-quality services. There are the top 4 key driving factors of AI in hospitality that reflect in the process of digital transformation.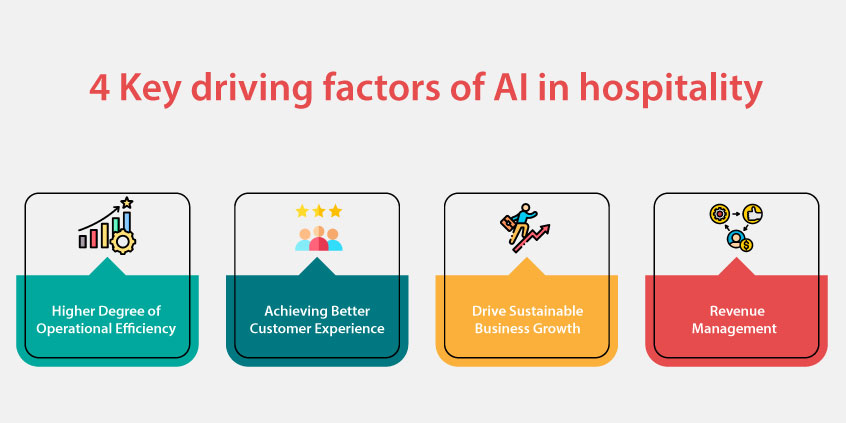 Higher Degree of Operational Efficiency 
Artificial Intelligence (AI) is modernizing the hospitality industry by improving operational efficiency with a 360-degree view of day-to-day processes. AI algorithms can analyze data and make predictions to optimize pricing strategies, minimize downtime, and improve inventory management. AI-powered chatbots free up staff to focus on more complex tasks. 
Additionally, AI in hospitality industry assists employee management, providing scheduling and performance evaluations to increase productivity and satisfaction among employees. AI-powered surveillance systems can also improve security and safety by providing real-time monitoring, tracking, and analysis. As a result, by adopting AI-based solutions, hospitality businesses can streamline processes, make more informed decisions, and drive more relevant outcomes.
Achieving Better the Customer Experience
When it comes to serving the best to the customers and converting them to their word of mouth, the hospitality industry is more concerned about it. Here, AI can play the utmost role in hospitality businesses with its strength.
Artificial Intelligence (AI) in the hospitality industry helps hotels to achieve exceptional customer experiences by providing valuable insights into customer behavior and preferences. As a result, businesses can offer them their services.
An AI-based chatbot can provide prompt and consistent customer service 24/7, improving response times and customer satisfaction. Moreover, Chatbots allow customers to interact with a business through multiple channels, including messaging apps and websites, providing increased convenience.
Through the next level of personalization services, hospitality businesses can pave the way of providing better services efficiently and effectively.

Drive Sustainable Business Growth
The hospitality industry has the opportunity to drive sustainable business growth through the use of AI. By adopting AI technologies, such as chatbots, predictive analytics, and personalization algorithms, hotels can deliver a more personalized and elevated customer experience. This leads to increased satisfaction, faster and more efficient service, and a competitive advantage in the market.
AI-powered data analysis and decision-making can result in increased revenue, reduced costs, and improved operational efficiency. By incorporating AI into their operations, hotels can gain valuable insights into consumer behavior and make data-driven decisions that drive long-term success and sustainable growth.
In conclusion, the power of AI in hospitality industry has enormous potential to transform businesses and bring sustainable growth.
Revenue Management  
AI integration in the process of overseeing and effectively managing revenue streams help businesses to scale to new heights. Hospitality businesses can utilize powerful and robust AI property management systems that can streamline the revenue management. 
AI-powered solution's prediction factor enables hotel businesses to get real-time information on trending price range and preference of the customer over choosing the services. This ultimately led the hospitality industry toward making informed decisions regarding cost scale.
Concluding Lines on AI in Hospitality Industry
The potential of AI in hospitality industry is immense, and it has already begun to transform both front and back-office operations, leading to significant improvements in bottom-line results for hotels. With advanced AI solutions, hospitality businesses are moving forward from rule-based automating solutions and providing more personalized services.
Is your company looking forward to boosting growth? AI is an ideal solution for you. 
Solution Analysts can be your trusted partner in incorporating AI-powered solutions. We are a leading provider of Artificial Intelligence App Development Services that can help streamline operations, enhance customer experiences, and drive growth. With our expertise in AI and deep knowledge of the hospitality industry, Solution Analysts can help you drive business success and achieve your goals.