HomeKit is the latest thing dropped from the House of Apple that will bring complete control of our home appliances and electronics to our iPhone, iPad, and in a latest, our iWatch! We present 5 things to know about Watch OS 3 Home App and HomeKit.
Remote Controlling a Smart Home
The greatest iOS App developments by Apple may be the HomeKit that will enable us to remotely control the lights, temperature, kitchen appliances, television, water heating and much more.
The highly comprehensive system has granular context-oriented groupings in HomeKit which can be used to refine rooms, zones and scenes. A single tap is enough to manage exact controls within the premise.
HomeKit with Siri – Smarter it is
There was news of a smarter Siri, by integrating it with HomeKit and presenting an easy configuration, voice commands replace the need for moving one's finger over their Apple device. Within a secure environment, HomeKit ensures seamless interoperability with apps and devices.
Know More: IoT Home Automation Solutions
The advanced command execution on the new system implies that when Siri is given a voice command "prepare to leave home", all specified appliances will be shut, doors and windows will be locked down and garage doors will be opened to take the car out.
BLE, Wi-Fi, Apple TV and iCloud Synchrnization
All HomeKit definitions will be synchronized over iCloud over Bluetooth Low Energy (BLE) or Wi-Fi. This is one of the modes through which Siri will also take commands using time-stamped triggers that can be easily repeated.
Via the iOS, the definitions will be synchronised across multiple iOS devices and even when the user is not present in their Wi-Fi network, the devices can be continuously controlled with the Apple TV. The Apple TV will provide the requisite entry point to the user's network while sending commands.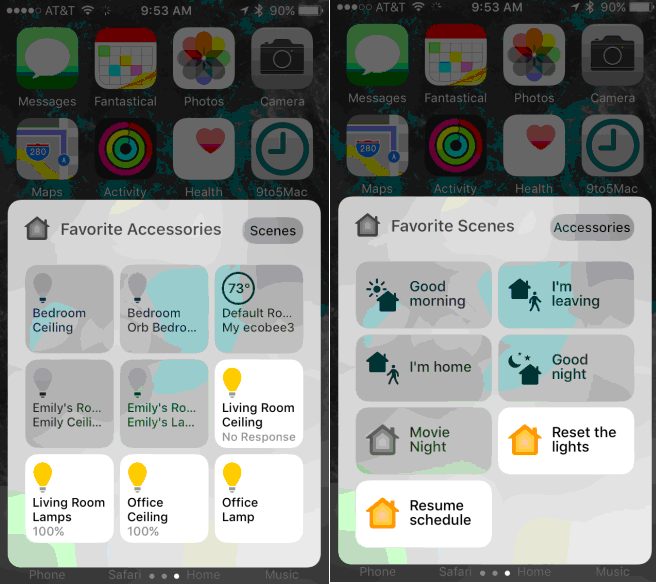 The Home App Screen
The Home App can be easily accessed on the home screen for iPhone, iPad, and iWatch with additional direct access to features on the lock screen. There is a separate control centre (Swipe up from screen bottom) after the HomeKit accessory has been set up. One can access up to 9 favourite accessories and 8 favourite scenes and the shortcut grid is fully functional.
HomeKit will only work with Apple-authorized smart home products, for unauthorized products, third-party hardware bridges will be available, which of course will present some limitations. However, the range of approved products is quite large and viewing the home as a large container access can also be controlled for guests and residents.
We are leading Mobile Enabled IoT Solutions Company in India delivering Enterprise & Mobile App Development Solutions across the globe, among various industries with domain expertise in Mobile & Enterprise Technologies. We deliver Web & Mobile app solutions that help you to bring ideas into reality.