Technology domain is ever-changing. It is thriving with the advent of innovative concepts. It is, therefore, necessary for the technology solution providers to embrace the advancements and adapt to the latest technology trends. Technology events or tech shows help IT companies to stay updated with the trends while opening the doors of new business opportunities. Globally, such events can offer a platform to techies and tech companies to spread knowledge.
Recently, Gujarat, one of the most vibrant states in India, had a grand technology event organized by the Government. The event, Vibrant Gujarat Startup and Technology Summit 2018, was primarily and predominantly focused on tech startups. Around 250 exhibitors across the state showcased their services and domain expertise to over 10000 attendees for three days. The summit includes hot IT topics including healthtech, farm-tech, and mobility solutions.
One of the most noteworthy aspects of Vibrant Gujarat Startup Summit 2018 is a launch of Coffee Table Book by the honorable Chief Minister of Gujarat Mr. Vijay Rupani. This book includes fifty successful startups that are thriving on the basis of an innovative idea and the overall impact on the market. In other words, Coffee Table Book covers promising startups that can play a bigger role in driving IT business in the future.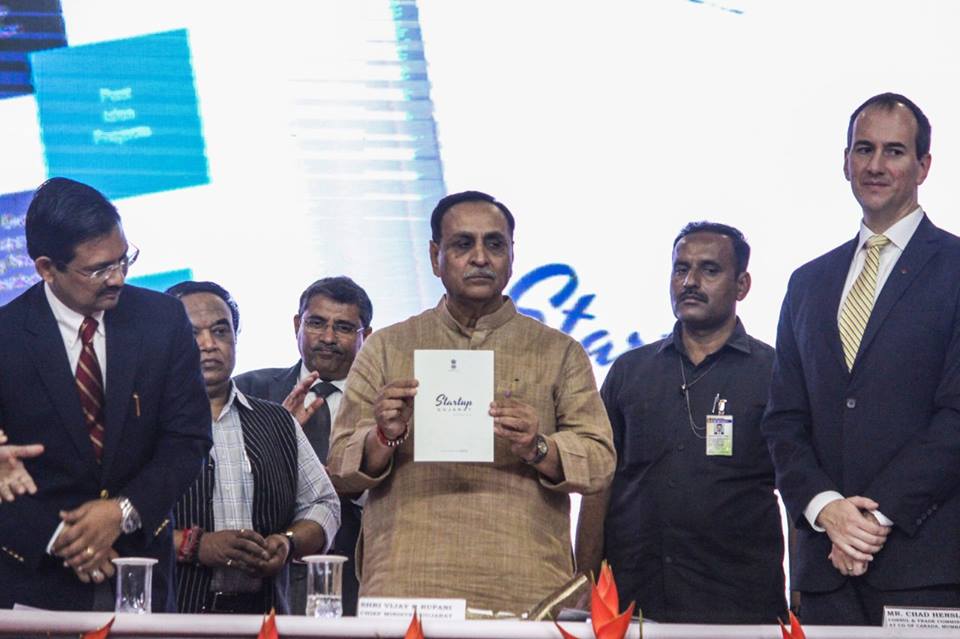 We, at Solution Analysts, provide cost-effective technology solutions to enterprise clients worldwide. Our focus on quality and an agile approach to embracing the emerging technologies have taken our company to the next level. In a less than a decade of inception, Solution Analysts has evolved has a global IT solution provider from a mobile application development company. Our dedicated efforts to meet the diverse requirements have paid off well.
Solution Analysts participated in Vibrant Gujarat Startup and Technology Summit 2018 with a view to exchange the views about technological advancements with like-minded people. Our team discussed the business benefits of futuristic technologies like blockchain, AR, AI, VR, and IoT with entrepreneurs. On one hand, such events can open the doors of new business opportunities, and on the other hand, it enables tech companies to share their experiences.
Our company has set a new milestone in this event. We are featured in the category of Growth-stage startups in the Coffee Table Book. It is both appreciation and recognition of our attempts to serve the corporate clientele. As a technology solutions provider, we know what it takes to survive and thrive in a highly competitive IT industry. The selectors of Coffee Table Book identified our potential, and as a result, Solution Analysts has included among top fifty startups.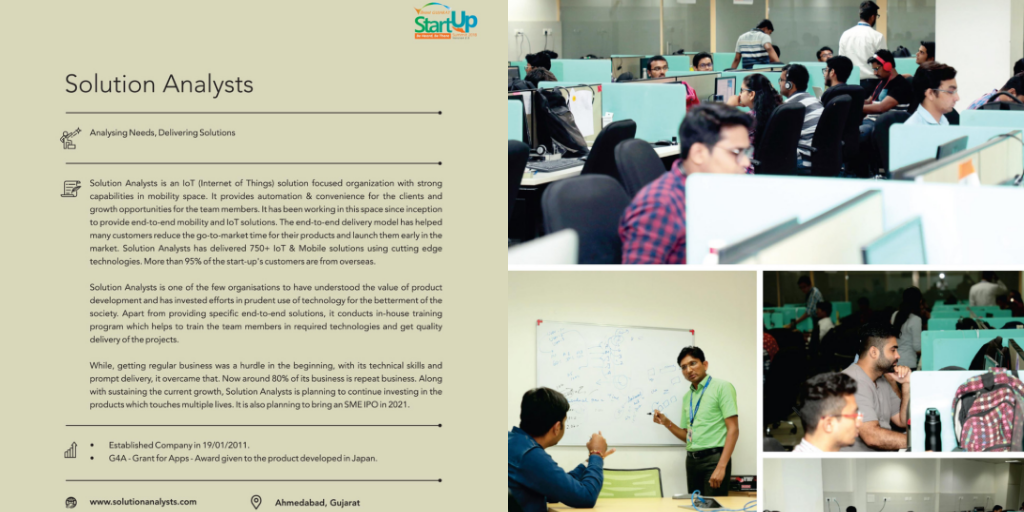 Recently, Solution Analysts has opened a corporate office in Delmar, USA to serve the US-based and global corporate clients more efficiently. This office helps us strengthen our global position while enabling us to keep pace with ever-changing market trends in business and IT domains. We work by keeping our vision 'to automate the client's business processes' in mind and use cutting-edge tools and technologies.
These days, Team Solution Analysts visits Dubai to attend GITEX Technology Week to share the domain expertise and discuss new possibilities of integrating the futuristic technologies in the modern business operations. Our delegates will stay in Dubai between October 12 to 21 for exploring new opportunities and staying updated with the latest tech trends. You can meet our team in Dubai during this time to find what advanced technologies can do for your business.
From mobility to IoT and software development to AR and VR, Solution Analysts thrives by leaps and bounds. At Solution Analysts, our endeavor is to offer cost-effective IT solutions using cutting-edge tools and technologies. Just contact us at sales@solutionanalysts.com with your project requirements and our team of experienced professionals will assist you in transforming your business operations.