Food delivery service is one of the hottest trends among startups worldwide. Many restaurants and entrepreneurs plan to come up with on-demand food delivery apps to grow their business and build a brand. In recent times, when we are struggling to spread the curb of an invisible enemy- coronavirus, the food delivery app can work wonders in growing your startups.
Apart from providing doorstep delivery of food, the food delivery app can help startup and restaurant owners to improve customer services. UberEats, Grubhub, and FoodPanda have become brands by providing food delivery services through dedicated apps. Here in this article, we will discuss the features and expected cost of an on-demand food delivery app solution.
Let's start from scratch. The on-demand food delivery app solution consists of four different panels. These panels have various features to meet the specific requirements of your restaurant business. It's time to go through all four panels one after another.
Customer Panel
As the name suggests, the customer panel is designed by keeping your customers' requirements in mind. It is the most important part of your food delivery app because it can grow your business. If you run a restaurant chain or you are an aggregator of restaurants, then you can show the list of various restaurants to your app users along with the reviews of other customers. The app users can also see their past and current orders.
Other features in the customer panel include Favorites and Payments. The Favorites is a special section that shows the list of restaurants to which the users give orders frequently. On-demand food delivery app development services integrate various payment gateways in the customer panel to facilitate your customers to pay the bill through credit cards, debit cards, or e-wallets. The built-in digital payment system can help you make customers happy.
Manager Panel
The restaurant managers find this panel very helpful. This panel also has a 'Favorites' feature that enables the managers to add frequently added food items in the customizable list. The 'Foods' section has a menu, food reviews, nutritional values, and additional information related to various food items. Your restaurant's managers can edit the data in this section to stay your app users updated with new items.
Another interesting feature of a food delivery app solution is media management. Managers can post HD photos of various items or trending dishes by using this feature. It shows the images of food items instantly to the app users once they are uploaded. The manager can also see the payment history of various drivers and delivery persons through the 'Payments' section.
Delivery Person Panel
This panel is designed for drivers or delivery persons. Once they create profiles after successful registration, they can use the app with ease. They can add restaurants from which they get deliverables frequently in their 'Favorites' list. They can also give reviews and ratings for various restaurants. The 'Orders' section shows both pending and completed orders. It shows the status of the order in real-time.
Delivery persons can also see the payment history and check their commissions for past orders. The panel has emergency contact details that can be useful for delivery persons.
Related Reading- How On-demand Food Delivery App Helps Your Restaurant Business to Grow
Admin Panel
This is a comprehensive panel that offers many features to the admin. It has an interactive dashboard that displays all the processes and activities related to orders and deliveries. The admin can also make a list of popular restaurants for the app user's quick reference on the basis of reviews and order frequency.
Order management feature can enable the admin to track various orders and monitor aspects like delivery addresses, delivery persons' details, and the like. The admin can also add new HD photos of food items in the app and view all the information related to payment and delivery persons' payouts. The master setting facilitates the admin to change the app's theme as and when necessary.
The mobile app development company can also integrate other features in your customized food delivery app to meet diverse business requirements. For example, you can add social media integration in the app to enable your customers to share their views about your services with their friends and relatives. You can also remain in touch with your customers through social media integration on a 24/7 basis.
Top Benefits of On-demand Restaurant Delivery Apps
A customized, on-demand restaurant delivery app can take your business to a new level by attracting more people and improving business processes.
Here is the list of key benefits offered by an on-demand food delivery application-
Reduced Operational Costs
The food delivery app solution can assist you to reduce overheads and operational costs by simplifying complexities and bringing automation. You can focus on other core activities as the app handles some of the crucial tasks like customer support, order management, and payment management.
Improved Customer Services
An on-demand Food delivery app can enhance customer services through various features like 24/7 customer support, instant chat, and order tracking features. Your customers can give orders on the move with ease and get delivery at their doorsteps. Such functionality can attract more people toward your business.
Grab Opportunities
The food delivery app can be a cost-effective marketing tool. You can expand your business on the mobile platform and increase sales by having a strong customer base. The food delivery app can be the most powerful way to reach a huge audience.
Get Competitive Edge
Improved services and flawless app functionality can help your restaurant business get a competitive edge. You can stay ahead of the curve by bringing a dedicated app before your peers.
Better Order Management
The food delivery apps can manage orders more effectively. The admin can keep the manager, delivery person, and customers in sync while tracking the entire order and delivery processes. The app ensures on-time delivery at the customer's doorstep. In a way, you can manage orders more efficiently and win the client's trust over the period.
What does the cost of on-demand food delivery app development?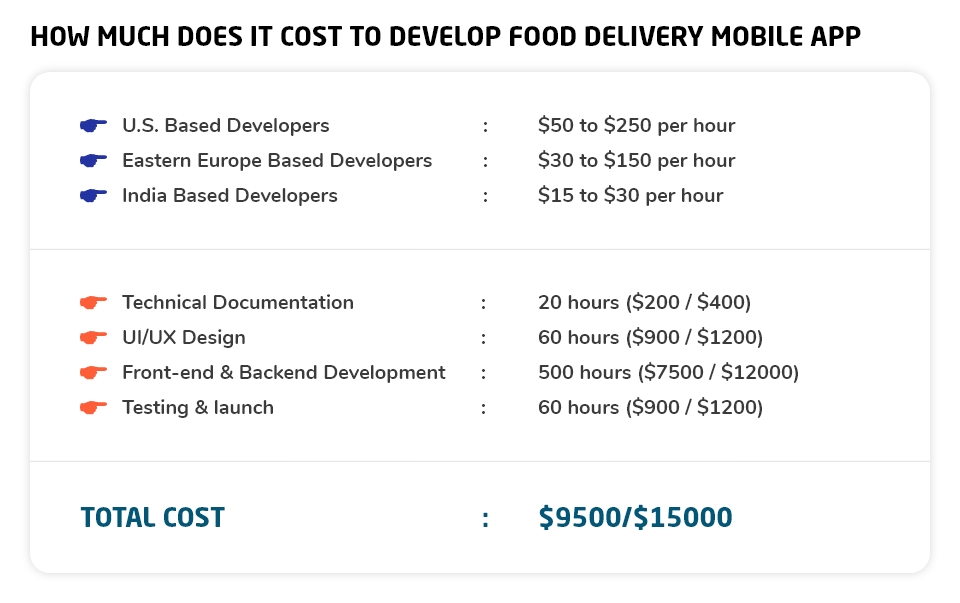 The cost of on-demand apps is based on various factors including the app's complexity, features, and the hourly rate of developers. If you want to build an on-demand food delivery app, all these factors should be taken into the account. Considering the app developer's charge as approximately $25 an hour, the development cost can be around $12000 to $25000 on the basis of features and complexity of the food delivery app.
However, it is advisable to consult a reputed mobile app development company to get a quote as per desired features.
Startups can consider to come up with an MVC at the initial stage. Later on, they can introduce more features in the subsequent app versions. It can help startups in two ways-
1. They can get valuable feedback from the users for better versions and
2. They need not spend a small fortune in developing a mobile app initially.
Wrapping Up
On-demand food delivery apps offer great potential to the rapidly thriving hospitality sector. You can explore new possibilities, improve services, and attract more people toward your restaurant business. There is no exaggeration in mentioning that a feature-rich restaurant app solution can assist you to build a brand like UberEat and Zomato. Just consult a renowned on-demand app development services provider and get ready to grab new opportunities.