The mobile wallet is a new buzzword in the corporate sector. People's growing interest in making transactions through mobile devices have created many opportunities for enterprises and mobile app development companies alike. Entrepreneurs are keen to leverage the benefits of this trend by offering financial services through mobile apps.
Today, business owners of startups and established companies tend to avail the advantage of a thriving mobile platform. As a result, we have an app for almost everything. What's more, on-demand mobile apps have brought revolutionary changes in our way of accomplishing tasks. On that note, the finance app development is aimed at addressing the financial challenges of users.
Growth of Fintech App Development 
According to Business of Apps, 
"Payment apps grabbed a 51% share of instals, with banking apps at 40%, crypto at 6%, and stock trading at 3%. 
Notably, fintech's paid instals share edged up in 2022, from 0.15 in 2021 to 0.16, while banking and payment apps held steady. Stock trading, however, nosedived from 0.8 to 0.46, revealing a massive drop in paid campaigns." 
However, Finance app development services are not only about money management. It establishes a seamless integration between the app users, banks, and credit cards to ensure smooth and proper financial planning. Apps like MoneyLion, GoodBudget, Mint, and Wally are examples of top personal finance apps.
 Let's go through its key features and major business benefits.
But, before that let's go through some challenges faced by finance app development.
Key Challenges for Finance App Development
Finance app development process has to deal with several challenges. When you hire financial app developers, they strive for making a unique app while addressing the below-mentioned challenges.
Data Security
The biggest concern for mobile app developers is to ensure safe data access. When it comes to financial app development, this concern takes a centre stage because the app has sensitive and personal information of the users and companies like credit card details, bank account details, etc.
Here, there is no chance of error because it opens a wide range of possibilities for the hackers to affect the details. 
The finance mobile app can make or break the company's reputation, and therefore, data safety is of paramount importance.
Regulations and Compliance
The BFSI sector is highly regulated and has to comply with many regulations like the General Data Protection Regulation (GDPR). 
Now here the major challenge is it has a lasting impact on the performance of the app and the overall business model. Nearly 55% of apps are not compliant with GDPR requirements. It shows the importance of following regulations in the finance application.
Customer Experience
This is also considered as one of the biggest challenges for finance app developers. The app requires a seamless experience and interactive interface. This focused aspect can take your app to the next level. Financial mobile application development services are designed to meet this challenge. 
Furthermore, in this blog, let's discuss that how to build a personal finance app
Major Features You Need to Consider while Building Finance Management App
Don't miss- 
Must have Features in Banking and Finance App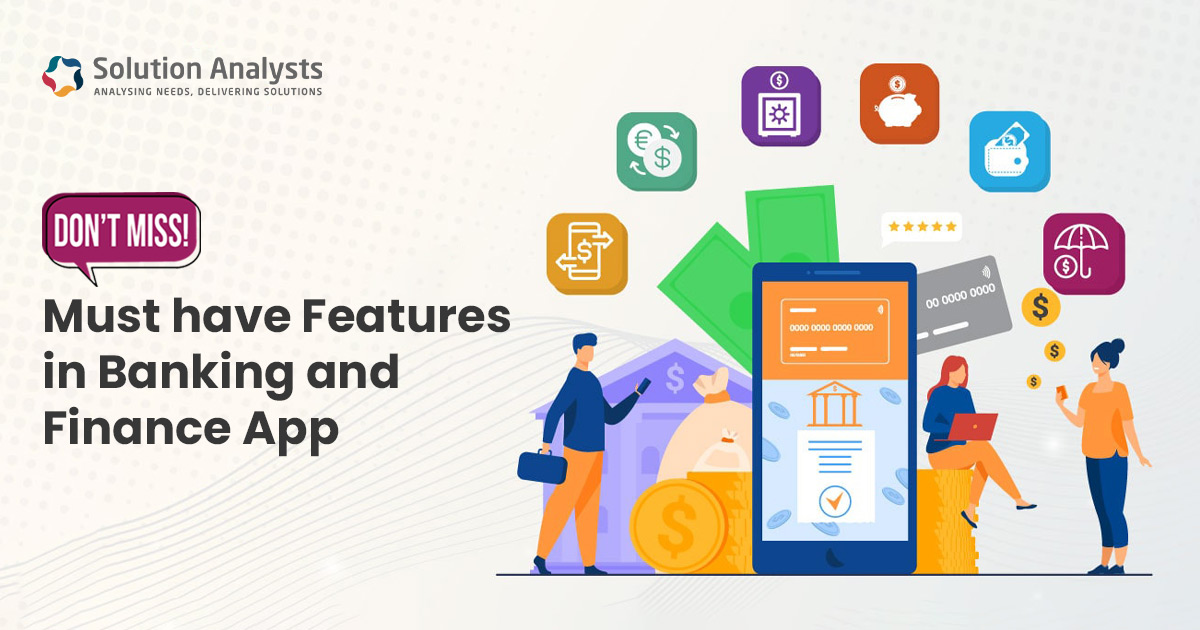 Free credit monitoring
This is the first and foremost feature of every finance app. The credit monitoring includes four aspects namely on-time payments, credit utilisation, credit age, and inquiries. Along with these features, the personal finance and banking  app development integrates credit score tracking features that includes – 
Monitoring of spending

Credit score

Savings
Altogether, this feature allows  users to track and improve the credit score to get finance as and when they required. .
Link Bank Accounts
A finance app should offer personalised tips related to money and finance. The app users can link their bank accounts and get customised recommendations, tips, etc. The app analyses the user's spending patterns and sends messages to save or spend money on a daily basis.
A finance app plays a major role in managing the user's spendings and finance-related requirements. Linking of bank accounts can serve this purpose.
Reward Points
Gamification is a very popular trend in app development. The financial app development companies also integrate gamification-related features and enable app users to earn reward points. In a way, the users get encouraged to purchase discounted items online and save more.
A finance app like MoneyLion has cashback credits and reward points available. If you own a financial startup, you can motivate and retain the app users with a reward program.
Basic Features
Registration
The app users can register on the app by using their social media credentials and phone number. The email address can also serve the purpose. The registration process needs to be simple and short because the users hate to give more personal details during the login process.
The sign up process consists of first name, last name, email address, and password.
Dashboard
The finance app development solutions facilitate users to add different bank accounts. The dashboard shows all the accounts at once along with the latest transaction details and the sensitive details are secured by encryption. The dashboard needs to be interactive and intuitive to attract and retain users.
Personalized Tips
Personal finance apps are made to give real-time tips on financial management and other related aspects. The users can utilise these tips to keep spending in control or to improve their credit scores. Usually, personalised tips are shown on the home screen. You can also send the same in the form of push notifications to offer a more personalised experience.
Push Notifications
Push notifications are one of the most effective features in mobile apps. Various industry sectors can use this feature to provide a personalised and interactive experience to app users. When it comes to personal finance apps, you can send push notifications for different aspects. A few of them are:
1. To give updates
2. To give personalized tips
3. To give transaction alerts
4. To give service alerts
5. APIs
APIs can serve multiple objectives. From fetching the list of banks to integrating new features, finance app developers can use APIs for different tasks. 
Profile management, loan section, FAQs, reviews, and help centre are also noteworthy features of a personal finance app development. 
However, if one has budget constraints, they can bring an app with basic features and add other features in the subsequent versions. It is advisable for entrepreneurs to consult reliable finance app development companies to get proper guidance on necessary features in line with their business model.

Top Benefits of Personal Finance App
When you hire financial app developers, you can remain assured for the following business benefits – 
Retain Customers
The financial app can assist you to retain customers with your finance company, and you can sell products or services to the existing customers. Also, you can get a loyal customer base with the help of a finance app and such customers can help you t o make a good reputation in the market. 
Promote Business
Push notifications and personalised messages are great ways to promote business online. It makes your financial app more popular and assists you to boost sales. Let's take an example: people expect promotional offers and personalised experience from the personal finance app, and when they get them all from your app, they will certainly promote your business.
Improved Services
It is easy to provide improved services with a pleasant user experience through a finance app. Customer analytics, finance management, and priority setup are a few essential features for the app that can attract people toward your app.
Enhanced Support
The finance app development process is aimed at providing an excellent user experience and enhanced customer support. Apart from adding a FAQ section, you can integrate a help desk for offering 24/7 customer services in the app. Live Chat is also a good option to gain attention and retain customers to your app.
You can consult a leading mobile application development company in the USA and India to discuss more about your finance mobile app development services. 
Types of Finance Apps
Majorly, there are two types of Finance mobile application development services available 
Simple Finance Applications 

 Complex Finance Apps
Simple Finance Applications 
As the word suggests, the simple finance application refers to a simple banking process.This application allows users to track the income and expenditures.  This finance mobile application works on manual information based output. 
The major benefit of the Finance app is the risk possibilities are zero as users don't have to integrate any third party accounts to the system. In order to leverage all the benefits of finance app development, partner with a finance app development company. 
Complex Finance Apps
Complex Finance apps are advanced. In order to use this finance mobile application, users have to add their bank accounts as well as synchronised automatically. The only disadvantage in these types of apps is that users have to provide confidential data. 
Finance app development cost 
There is no fixed cost defined for finance app development. It is dependent on different factors such as app idea, complexity, and functionalities. There are many more factors that affect banking and finance app development cost, but for successful launching it is important to decide your requirements and budget on the initial stage or partner with the leading finance app development company. 

Concluding Remarks
You can hire financial app developers to integrate all these basic features and get an app with excellent performance. A personal finance app can generate a steady stream of revenue and offer you a high ROI over the period. It is your handy tool to make the most from the thriving financial sector and people's purchasing power. All you need to keep it updated with the features that can meet the user's expectations and market demands.
When it comes to finance app development, you can bank on us! If you want to get a finance app with desired features at competitive rates, just connect with us at sales@solutionanalysts.com. Our industry dopamin experts will get in touch.