What people want today while battling against COVID-19 pandemic and following all norms like social distancing for staying safe? The answer is- easy, quick, and convenient delivery of various products at their doorstep. Obviously, food products top the list of necessary items, and on-demand food delivery apps like UberEats and GrubHub can help people get their favorite food on time in a hassle-free way. Users can get food from their favorite restaurants simply by using their fingertips on the smartphone.
Talking about GrubHub and UberEats, a Zion and Zion survey has revealed that both these apps are used 37.8% and 36% respectively by multi-restaurant delivery app users in the USA. The survey has also highlighted the fact that almost 50% of app/website users have used on-demand food delivery apps once or twice in three months. Simply put, the market for food delivery apps offers many opportunities to restaurant owners providing they have a feature-rich and seamlessly-performing app.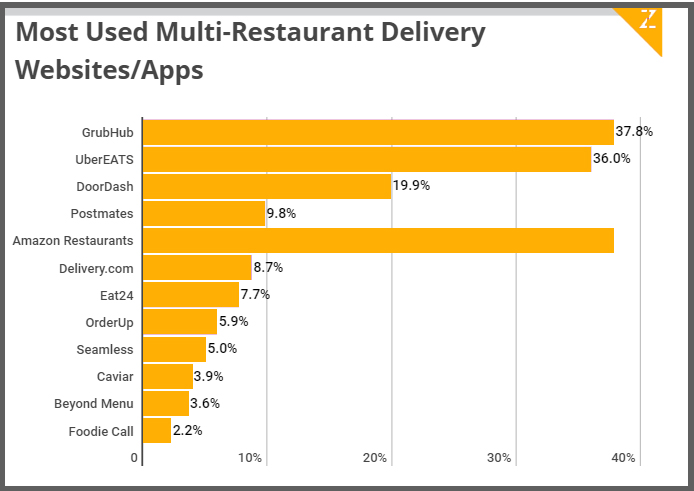 Even startups can get many benefits of on-demand food delivery app development services and grow their business in a relatively short time. If you are planning to come up with a food delivery app like UberEats and GrubHub, then this blog is for you. Owners of a chain of restaurants or takeaway restaurants can also get insights on features if they want to build a food delivery app. Before moving to the features, let's see how UberEats like apps work.
How On-demand Food Delivery Apps like UberEats Work?
UberEats is one of the most popular on-demand food delivery apps and many entrepreneurs who are in the hospitality sector want to develop an app like UberEats. As an on-demand app, UberEats works in a dual way- a restaurant aggregator and an online delivery agent.
As an aggregator, it shows the list of different restaurants to the users and as an online delivery agent, if the partner restaurants have no food delivery services available, then the UberEats app uses its logistic network to deliver food to the users.
It is fair to mention that UberEats like food ordering apps can give a pleasant experience to users for ordering their favorite dishes. Some of the excellent features like advanced search filters, order tracking, restaurant recommendations, and customizable delivery details enhance the user's convenience.
You can build a food delivery app like UberEats and take charge from your partner restaurants anywhere between 15% to 40% for each order. You can also take fees for promoting some of your partner restaurants in your app.
After going through the business model of the food delivery app like UberEats and GrubHub, let's go through necessary features that can make your app successful.

Necessary Features for Making Your Food Delivery App Popular
A reliable and reputed mobile app development company can make an app similar to UberEats by integrating the advanced features. However, it is not easy to define such features that can give your food delivery app an edge over competitors. As an entrepreneur, you need to keep the following factors in mind to identify top features for your app.
Follow the market trends
The food delivery industry is thriving at a rapid pace and your app should keep pace with it. The restaurant app development company keeps the market trends in mind while developing a food delivery app, but as an entrepreneur, you should also remain updated with the latest trends in the industry and your customers' changing expectations.
If you want to make your delivery app unique, you need to provide innovative and powerful features like social media and virtual assistant-based ordering facilities.
Take social media route
People use social media for almost all online activities like searching, referring, and even placing orders. What if your restaurant app offers a facility to place orders through the customer's social media accounts? Very few restaurants provide this functionality in the app today, and therefore, if your app has this feature, then it can get an edge over other similar apps. This feature can help you attract more people toward your app.
Also Read- How On-demand Food Delivery App Helps Your Restaurant Business to Grow
Provide virtual assistant
Virtual Assistant is a boon of advancing AI technology. Your customers can order their favorite items through messengers or using a single word. Taking the example of GrubHub, the app has integrated Alexa, a virtual assistant of Amazon, to enable its customers to reorder any of their previous orders. The virtual assistant also gives an approximate delivery time for the order.
Research your competitors
It is necessary to do extensive research on your competitors' apps and their promotional activities. It can give you ideas of making your app flawless and popular. You can come up with an app that answers to shortcomings of your competitors' apps.
Now comes the feature part. Here, you should consider the model you want to implement for your restaurant delivery app. You can establish a business on two models- The Order Model and Order and Delivery Model. You need to put features in the food delivery app according to your model. The mobile app development company segregates features in three panels- User panel, admin panel, and delivery person panel.
The following are the must-have features for every food delivery app
Login and Registration
It enables your app users to register themselves using social media accounts or email account. Here, you need to ensure that the registration process is short and simple for users
Search
A robust search feature with various filters can give more convenience to your customers and save their time
Order Placing and Checkout
This feature enables customers to place orders in the cart and checking out by making online payment
Payment Gateways
Your customers can make payments using any of the prevalent payment options including credit cards, net banking, and mobile wallets
Personalized Notifications
You can send notifications regarding special offers, promotional offers, and app-based discounts to the app users
Order Tracking
This is the most important feature of your food delivery app. The app users can track their orders and know the estimated time of delivery
Reviews and Rating
It enables your app users to give reviews about your services and food along with ratings. This feature can enhance the confidence of your existing customers and attract new customers toward your app
Help Center
This feature is designed to provide a real-time assistance to your customers. The help desk or support center is useful for your customers and delivery persons alike
Loyalty Program
This feature is designed to engage your audience and retain your customers with your app for a long time. Many restaurants run a reward program or loyalty program to increase sales and the number of loyal customers

What can be the development cost of an on-demand food delivery app?
The cost of developing an on-demand food delivery app depends on various aspects like type of platform, the number of integrations, the complexity of features, and the hourly rate of mobile app developers. You need to make a roadmap before assigning your project to the restaurant app development company.
You can get a clear picture of the development cost after consulting a reliable mobile app development services provider. You can expect that the team of app developers take approximately 50 hours on UI/UX design, 80 hours on the back-end development, and around 120 hours for Android or iOS platform.
Wrapping Up
Though the restaurant business is lucrative and full of opportunities, you need to bring a seamlessly-performing and feature-rich app to attract your existing and new customers. These days, people tend to give orders for their favorite food online, and the food delivery app can make it possible conveniently. Be it increasing sales or improving loyalty, the on-demand food delivery app services can serve all your objectives effectively.
Here we have mentioned all major features necessary to make your food delivery app popular. Do you want to give a rich and convenient food ordering experience to your customers? Share your thoughts in the comments section and send your business requirements to us for developing a customized app.