From Pizza Hut to TaskRabbit, we live in the age of on-demand apps. For those who have little or no idea about the on-demand apps, they are like mediators between customers and service providers. These apps provide an easy, convenient, and quick way to get specific services. As such apps can save a lot of time and efforts, users like on-demand apps greatly. A Harvard Business Review study has revealed that the number of on-demand consumers is on the rise, and they include all age groups led by millennials. What's more, almost 39 percent consumers who prefer on-demand apps reside in towns or rural zones.
Today, the on-demand economy is surging globally while covering the service sector ranging from hospitality to transportation, and grocery to online marketplaces. It is fair to mention that the custom on-demand app development domain is all set to offer ample of benefits to the enterprises while assisting them to serve their customers in a better way.
Sectors that can take benefits of on-demand services app
Here we mention a few notable industry sectors that can leverage the benefits of on-demand applications:
Hospitality
Be it ordering the food or booking the table, a restaurant can provide their customers all the facilities online. If you own a restaurant, you can make ordering and delivery process simple with a custom restaurant app. When your customers order an item, you can deliver it really quick with such app.
Health and Fitness
This is a vast sector that includes all the aspects related to living a healthy life. People prefer a fitness trainer app or a medical help app these days, and if you are in a healthcare business or own a gym, you can expand your business manifold by having a customized app.
Transportation
Cab-hailing apps are much in demand as people seek convenient mean of transportation. You can manage your fleet effectively with an app if you are in logistics business. Apart from transportation and logistics, the courier companies can also get an edge over their competitors with a feature-rich mobile application.
Online Marketplaces
As our shopping pattern is influenced by mobile devices, online marketplaces can get the most of an on-demand app. You can boost your online retail business with a dedicated app while providing a pleasant shopping experience to your customers.
That's not all. Other sectors like utility, music, etc. can also provide various services by using such apps.
How to Make On-demand App Successful
You may wonder how you can make your on-demand app successful. Here we give you three tips that can help you increase the reach of your app and you can get a higher ROI:
Flexibility
On-demand apps need to be flexible to address the changing user requirements. Also, you should offer a 24/7 assistance. Your app should also scalable so that you can add additional features and functionality in the future to keep your app updated.
Technology Integration
When you contact a reputed mobile application development company, you will get insight into the market trends and technological advancements in the mobile app domain. It is necessary for your app to provide a pleasant user experience with the simple yet intuitive interface and seamless performance. You can do so by integrating the latest technology.
Pricing Strategy
It is a bit difficult to determine the monetary value of your on-demand app. When you provide online services with the utmost convenience and doorstep delivery, you can take some charge or fees. But then, you should consider your competitors' strategy regarding pricing because people hate expensive apps and services. You should also keep your targeted audience in mind while deciding charge. The right pricing can ensure the success of your app.
How much it costs to develop on-demand apps
Just like other customized mobile apps for business, the cost of on-demand applications primarily depends on features and hourly rate. There is a huge difference in the hourly rates for on-demand app development across different geographic regions. For example, North American countries (Canada and the US) have the highest hourly rates up to $150/hour whereas India and a few Asian countries have the lowest development rates at $25 or more for on-demand applications.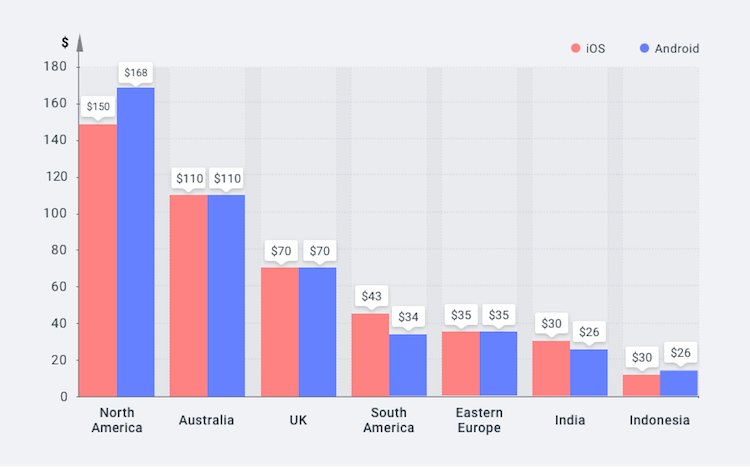 Courtesy: Cleveroad
Typically, the on-demand mobile apps include the following features:
– Booking or Reservation
– List of Order or Requests
– Navigation
– Payment Gateway
– Order or Delivery Confirmation
– Push Notifications
– Price of Fare Calculation
Considering market research, feature integration, duration, and hourly rates, the price of an on-demand app starts from $5000 and goes up to $50000.
Wrapping Up
An on-demand service app can help your business thrive amid intensifying competition. You can attract more people toward your business and establish your brand with ease. Even a startup can stand ahead of the curve through offering an on-demand application.
What is your take on an on-demand mobile app? Do you want to grab the opportunities it offer? Let us join hands to build the next Medicast, BloomThat, or Subway!