Are you ready for the NextGen Service revolution? With rapid technological advancements, businesses are increasingly relying on NextGen Service & solutions to stay ahead in the competitive market. To navigate this new landscape effectively, our expertise in cutting-edge technologies are in high demand. In this article, we will explore the key areas where we play a crucial role and the skills required to meet NextGen Service demands.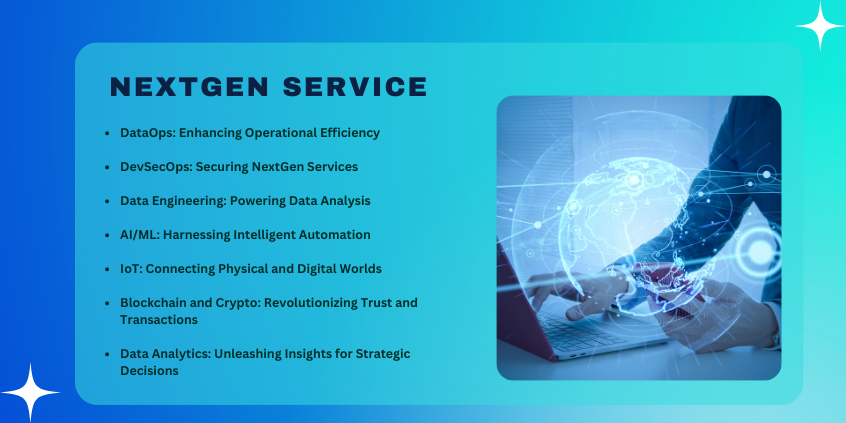 DataOps: Enhancing Operational Efficiency
DataOps, Data Operations, focuses on improving the speed and quality of data analytics processes. As a Solution Analyst, proficiency in DataOps services is vital for ensuring efficient handling of data throughout its lifecycle. By implementing streamlined workflows, automated data pipelines, and effective data governance, Solution Analysts enable businesses to derive actionable insights from vast amounts of data, empowering better decision-making and improved operational efficiency.
DevSecOps: Securing NextGen Services
In today's digital landscape, security is paramount. DevSecOps, Development, Security, and Operations, is a crucial aspect of NextGen Service delivery. We proficient in DevSecOps ensure that security is integrated into every stage of the software development lifecycle. By leveraging their expertise in secure coding practices, vulnerability assessments, and risk management, we have safeguard businesses from potential cyber threats, providing a strong foundation for NextGen Services.
Data Engineering: Powering Data Analysis
Data is the lifeblood of NextGen Services, and We well-versed in data engineering hold the key to its full potential. By employing advanced techniques and tools, data engineers collect, transform, and organize data, making it readily accessible for analysis and decision-making processes. The ability to design efficient data pipelines, implement data integration strategies, and work with large-scale data systems equips SA to drive innovation and value creation through data-driven insights.
AI/ML: Harnessing Intelligent Automation
AI & ML services are transforming industries worldwide. SA is skilled in AI/ML techniques and can leverage intelligent automation to deliver NextGen Services that revolutionise businesses. From developing predictive models to automating repetitive tasks, we harness AI/ML algorithms to enhance operational efficiency, optimize resource allocation, and provide personalized user experiences, leading to improved customer satisfaction and business growth.


IoT: Connecting Physical and Digital Worlds
The Internet of Things (IoT) bridges the gap between physical devices and digital networks, enabling connectivity and data exchange. SA expertise in IoT play a crucial role in designing and implementing IoT solutions that bring NextGen Services to life. 
Blockchain and Crypto: Revolutionising Trust and Transactions
Blockchain and cryptocurrency technologies have disrupted traditional business models, introducing new possibilities for trust, security, and transparent transactions. SA has expert developers in blockchain and crypto to help organizations leverage these technologies to drive NextGen Services forward. From developing decentralized applications to implementing smart contracts.
Data Analytics: Overall Insights for Strategic Decisions
Data Analytics forms the backbone of NextGen Services, providing organizations with actionable insights for strategic decision-making. Our data analysts proficients in data analytics methodologies and tools are instrumental in extracting valuable information from complex datasets. By employing statistical analysis, data visualisation, and predictive modeling, we empower businesses to make informed decisions, optimize processes, and gain a competitive edge in the market.
In conclusion, the NextGen Service revolution is upon us, and Solution Analysts are at the forefront of driving this transformation. With expertise in DataOps, DevSecOps, Data Engineering, AI/ML, IoT, Blockchain, Crypto, and Data Analytics, SA enables businesses to embrace innovation, enhance security, and fully utilize the potential of NextGen Services. Embrace the future, invest in skills, and embark on a journey of success in the NextGen Service era.