The usage of mobile applications have increased at an extensive level. In this 21st century mobile apps are not only sufficient till gathering the information but it helps to meet with different daily life needs such as booking appointments, shopping, ordering food, grocery, and many more.  Mobile app developers have to integrate the latest mobile app development trends that help to meet the specific business demands and increase customer satisfaction. 
In this blog, we are listing the mobile app trends that every business owner should know as it helps to connect with customers in a better way and enhance service offerings. 
Watch out –  Mobile App Development Latest Trends
Artificial Intelligence and Machine Learning 
Artificial Intelligence and Machine Learning technologies are trends in mobile app development services. One of the major reasons to opt for machine learning is it reduces the development time. 
 Apart from this, with Artificial Intelligence and Machine Learning integration mobile app development services allow businesses to exclude repetitive tasks and offer personalised experience.
Presently, AI and ML helps to meet with the customer expectations and ensure to deliver modern digitalisation experiences to the users. It also allows users to leverage the benefits of voice command. Developers can integrate virtual assistants in mobile applications that understands voice commands and completes tasks for a user. There are many more benefits that can be leveraged with Artificial and machine learning technologies among them one is smart chatbots that have gained immense attention from users. Bots offer interactive and instant replies to the users.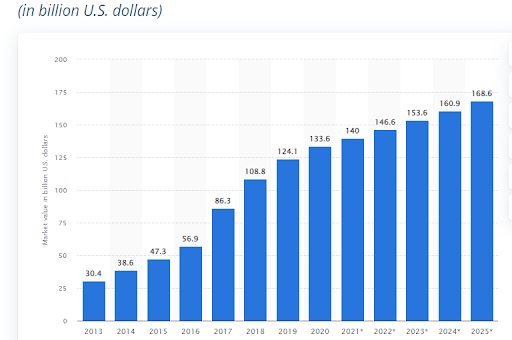 Statista: Cloud applications market size worldwide from 2013 to 2025
According to Statista, "The global cloud applications market has a value of 133.6 billion U.S. dollars and is expected to reach 168.6 billion U.S. dollars by 2025. The cloud applications software market is anticipated to grow at a compound annual growth rate of 4.8 percent." 
In app development service The demand for Cloud computing solutions is constantly increasing. It is considered as one of the best technologies to incorporate with mobile app development services. Cloud computing allows crucial data and allows flawless operations that ensure to boost the performance and security. 
Data plays an integral part of the business. It has been witnessed that  for enterprises, it is a real challenge to manage data. In order to resolve this issue mid to large can opt for web and app development services in which they can integrate Cloud computing technology for mobile applications that ensure to store, add, and manage data appropriately. 
Cross-Platform Mobile App Development
Mobile application development is in high demand. In order to boost the mobile application process cross platform has come into existence. With cross platform mobile application development service mobile app developers can launch applications on different platforms with a single codebase. 
Cross-platform mobile app development is a trend of the app development industry. In order to leverage all the benefits of the app development services, partner with the mobile app development company. 
Moreover, cross platform app development helps to save huge time and efforts of the mobile app developers. Also, with the same codebase developers can provide same experience 
Internet of Things is the new buzz word in the app development industry. Presently, connected mobile apps are the demand of the different businesses. Internet of Things technology allows us to store and exchange data. 
IoT apps are embedded with sensors and software that make the infrastructure connected. With IoT based mobile applications, devices are connected and users can operate the different devices via their smartphones. Along with this, it also delivers real time experience to the users. 
Henceforth, Iot application development services are in high demand and making connected infrastructure. 
Blockchain refers to the digital sheet. It is a new method of payment that is increasing constantly. Blockchain app development services refers to the decentralised system. It excludes all third parties from the process and makes the payment process fully secure and efficient.



Now Blockchain technology can be integrated to mobile apps and companies can leverage the maximum benefits of the secure payment methods and bring transparency in the process. 
Blockchain integration is the trend of this era, and it is also expected that this is the future of mobile app development services. 
Support 5G Internet Connectivity 
Mobile applications should support 5G wireless connectivity. 5G is the fifth generation of network connectivity. Hence, the 5G technology helps to increase speed and allow users to send the information faster than 4G. Moreover, 5G connectivity also allows users to send huge files.
Hence 5G connectivity offers 10* times more speed to the users and considered as the next generation of wireless technology that is more reliable and accurate. In order to leverage all the benefits of the 5 Technology, partner with a mobile app development company. 
In mobile applications, programmers should integrate smart digital wallets that allow users to pay online with their wallets only. Presently, people prefer to opt for the hassle-free payment process. No one prefers to opt for the multiple payment steps OTP authentication and many more. 
In order to save time, wallet integration is the new trend of mobile app development services. It allows users to opt for the hassle free payment. 
Virtual Reality is considered as the game changer in mobile application development. In 2023 we are taking VR as the trend of the mobile app development services, but in the coming years Virtual reality will rule the app development industry. 
VR Technology allows users to experience a simulated environment and interact with it. Virtual Reality technology has been in eyes since a long time but earlier for app coders it was difficult to integrate with mobile devices but now with the launching of WebXR and ARCore it is easy to utilise VR benefits. 
Another mobile app development trend in the app development industry is real time applications. Real time apps offer to track the live activity status and with API integration different apps get interconnected and the information is sent to the cloud that ensures to set alarm systems, monitor pollution, and connect home appliances. 
Beacon is the new emerging technology of the app development industry. It uses Bluetooth low energy signals that allows it to transmit and connect to mobile devices within 100 feet range. 
The integration of Beacon technology in the mobile applications allows customers to provide suggestions to the customers in the form of notification by using the particular device location. 
Mobile apps using beacon technology will be able to suggest the best services nearby for the consumer by using the device location. Different industries can leverage the benefits of beacon technology that includes hotels, hospitals, and pharmacies, and local businesses. 
Conclusion 
The demand of mobile apps is increasing constantly and highly engaging applications are delivering next generation experience to the users. There are different mobile app development trends that are ruling the industry at an extensive range. In this blog, we have listed the top app development trends that you can't miss in your mobile applications.