The advent of the digital age has markedly increased the prevalence of data-driven decision-making. Businesses are placing a higher priority on the adoption of an IoT-enabled ecosystem and IoT analytics solutions in order to make this vision a reality.
The term "Internet of Things" (IoT) describes a network of linked machines, sensors, and other items that have technology incorporated in them for data collection and exchange. These gadgets are used in a variety of settings, including homes, offices, hospitals, and transportation, among others.
It has been estimated that, by 2025, there will be 152,200 IoT devices connecting to the internet per minute. (Source)
In the upcoming times, IoT is poised to dominate the world, generating a massive amount of data within businesses. However, converting this data into meaningful insights presents a challenging task. This is where IoT analytics solutions come into the picture.
Whereas, the combination of IoT and analytics is a powerful duo that brings tremendous benefits to enterprises, businesses, and organizations. By leveraging this combination, they can improve operational efficiency and achieve better outcomes.
In this blog, we will explore IoT analytics solutions and how IoT data analytics fuels the transformation of raw data into smarter insights. Let's get started!
Clarification on IoT Analytics Solutions:
IoT analytics solutions are made possible by the use of a variety of technologies, approaches, and procedures. These IoT analytics solutions are developed with the capabilities to gather, examine, and make sense of the huge amounts of data produced by Internet of Things (IoT) devices, sensors and other objects. 
IoT integration analytics solutions use a combination of data collection, integration, storage, preprocessing, advanced analytics methods, and visualization tools to turn unprocessed IoT data into knowledge that can be used for decision-making.
Solutions for IoT analytics are essential for smart agriculture. Real-time analysis turns the information gathered by IoT sensors on soil, temperature, and crops into useful insights.
A Quick Example:
"

For example, farmers can detect illnesses using temperature and humidity trends, manage irrigation based on soil moisture levels, and choose the best time to harvest based on crop growth data. These insights, which are made available through simple dashboards, enable farmers to make data-driven decisions that optimize resource use, maximize crop yields, and enhance all aspects of farm operations.

"
Traditional agricultural methods have been altered by combining IoT  and data analytics, boosting production, efficiency, and sustainability. Utilizing the potential of networked sensors, smart agriculture transforms unstructured data into insightful advice.
Similarly, there are many more applications of IoT analytics solutions across diverse industries. In the upcoming sections, we will delve into the key benefits that businesses can enjoy by integrating data analytics into IoT.
Top Use Cases of IoT Analytics Solutions
Predictive maintenance to identify equipment failures using real time data analytics.

Optimize energy use in structures and infrastructure to cut costs and promote sustainability.

In cities, improve resource allocation, trash management, public safety, and traffic management.

Healthcare and remote patient monitoring to deliver personalized care for better outcomes.

For higher harvests, improve irrigation, keep an eye on the soil, and forecast crop health.

Keep an eye on the quality of the air and water, evaluate the environment, and pinpoint pollution sources.

Target marketing efforts, provide individualized shopping experiences, and improve inventory management.
Importance of Leveraging IoT Analytics Solutions Insights and Decisions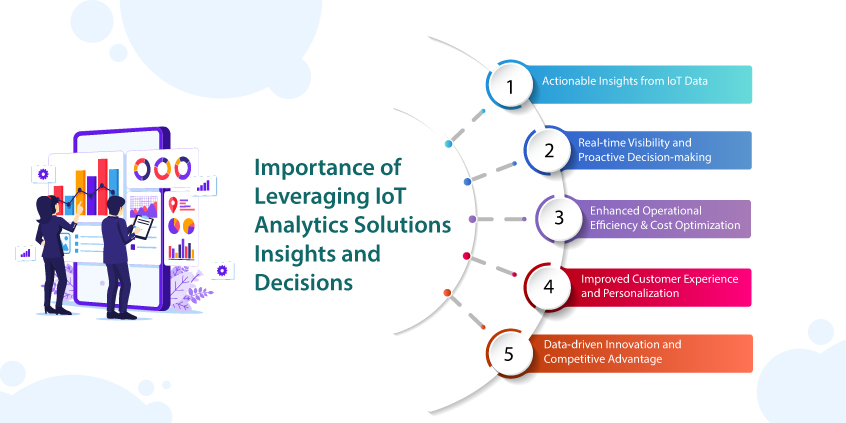 Actionable Insights from IoT Data:
IoT analytics tools allow businesses to mine the massive amount of data produced by IoT devices for useful insights. Businesses may find patterns, trends, correlations, and anomalies in the data by using sophisticated analytics techniques like machine learning, artificial intelligence, and statistical modeling. 
These insights enable firms to manage operations, enhance goods and services, and promote corporate success by providing useful information about consumer behavior, operational performance, product usage, and more.
Real-time Visibility and Proactive Decision-making:
The ability to give real-time visibility into operations, processes, and other activities is one of the main benefits of IoT analytics solutions. Businesses can acquire a thorough knowledge of their operations and make proactive decisions based on up-to-date information by collecting and analyzing data from IoT devices in real-time.
Real-time insights provide businesses the ability to react swiftly to shifting circumstances, spot problems early, and take advantage of opportunities as they present themselves.

Enhanced Operational Efficiency and Cost Optimization:
IoT analytics tools are essential for increasing operational effectiveness and cutting expenses. Organizations can discover bottlenecks, boost productivity, and allocate resources more efficiently by evaluating IoT data. 
As a result, production rises, downtime is decreased, and asset usage is maximized. Additionally, IoT analytics systems' predictive maintenance features assist businesses in anticipating equipment breakdowns, enabling proactive maintenance and reducing expensive downtime.
Improved Customer Experience and Personalization:
With IoT analytics, organizations can gain deeper insights into customer behavior, preferences, and needs. By analyzing data collected from IoT devices, businesses can personalize customer experiences, tailor offerings to individual preferences, and deliver targeted marketing campaigns.
This level of personalization enhances customer satisfaction, fosters loyalty, and drives repeat business. IoT analytics also enables organizations to track and analyze customer feedback, allowing for continuous improvement and the development of customer-centric strategies.
Data-driven Innovation and Competitive Advantage:
IoT analytics programs foster creativity and provide you a competitive edge. Businesses can identify new trends, market possibilities, and areas for innovation by gaining insightful information from IoT data. Organizations are able to create new goods and services, enhance current ones, and maintain a competitive edge in a market that is continually changing.
Concluding Lines on IoT Analytics Solutions
By leveraging data analytics in IoT, businesses can go beyond the mere collection and storage of data. They can unlock valuable insights and actionable intelligence that can drive strategic decision-making, operational efficiency, and innovative solutions. 
To fully embrace the potential of IoT data analytics, businesses need to partner with reliable and experienced technology providers. Solution Analysts is a trusted name in the industry, offering comprehensive IoT application development services and robust data analytics solutions. With years of expertise and in-depth domain knowledge, our team is well-positioned to deliver customized solutions that align with the unique requirements of clients across various verticals.