On-demand delivery apps had already gained popularity globally, much before the COVID19 pandemic. Apps for brands like Uber, Grubhub, foodpanda, Odtap etc. have been in demand for quite some time now. However, while adapting to a quarantined lifestyle, people have started relying heavily on mobile applications for daily essentials and services.
Looking at the current situation and its lasting impact, it is fair to mention that the trend of on-demand apps is here to stay. If you are an entrepreneur and want to make the most of a thriving on-demand economy or a retailer who wants to grow business by providing home delivery to your customers, then read on! In this blog we shall discuss why and how on-demand apps will be the new way of doing business in the coming time.
Why On-demand Delivery Apps will be the New Way of Business?
Why on-demand delivery apps become a new norm for businesses globally? Simply put On-demand delivery apps are an old way of doing business thanks to fast lifestyles, disposable incomes, Customer engagement etc. But It has seen a recent surge in importance due to a global pandemic. Recently, Instacart and Walmart Grocery, recorded a huge surge of 218% and 160% respectively in the number of downloads. Walmart Grocery has already surpassed Amazon by 20% in the number of downloads.
Customers are now heavily relying on mobile applications not only for essentials goods and services but also for leisure activities. This has put pressure on all sorts of businesses with a B2C model to invest in on-demand delivery app. For example, whether you own a supermarket or a local convenience store, it is imperative to have a seamlessly-performing on-demand grocery app to engage customers and drive sales otherwise you face the threat of losing out to competition or the big giant chains.
From accepting paperless transactions to offering a personalized experience to your customers, the on-demand grocery apps can help you make your grocery store online effectively.
An on-demand delivery app development company can assist you to bring a user-friendly app with innovative features that can attract many investors during and after the development phase. Another big reason why on-demand application gains popularity in the corporate world is its scalability. Any size business, even startups, can leverage the benefits of on-demand apps by attracting many customers and targeting a huge audience.
There are a number of companies in the market that can help you develop an On-Demand delivery app for your business. Solution Analysts is one of the leading on-demand delivery app development companies with more than 10 years' experience in the industry.
How On-demand Apps can be Introduced to Your Business?
The on-demand delivery app is a robust and cost-effective marketing tool for companies across various industry sectors like food, grocery, retail, healthcare, hospitality, and logistics. It helps entrepreneurs grab opportunities and take advantage of localization. For example, if you want to target a specific audience for particular services, the on-demand app can assist you.
The on-demand doctor appointment booking app facilitates healthcare service providers to enable patients to schedule the doctor's appointment. Also, the on-demand medicine app can ensure the delivery of prescribed drugs to the patient's house.
As an entrepreneur, no one understands your customer better than you. An on-demand app can give a robust and reliable solution to all issues of your customers. You can do extensive research on market trends and identify the necessities of your customers. Don't forget to check out similar apps from your industry, before integrating an on-demand app with your business.
A dedicated on-demand app enables you to manage all the operations efficiently. On one hand, the app brings automation in your business processes and, on the other hand, it enables you to offer a personalized experience to users. The on-demand app can provide complete control over key operations and you can focus on customer services and delivery networks with ease.
We, at Solution Analysts, have crafted several on-demand apps for sectors like retail, real estate, and healthcare. Our in-house team of developers can help you come up with a seamlessly-performing on-demand grocery app in line with your business model. Just drop us a line in the inquiry form, and our experts will get back to you soon!
Let's quickly go through the way through which different sectors can leverage the benefits of on-demand apps.
Use Cases of On-demand Delivery Apps
"Your taxi has arrived", "Your food will be delivered in 10 minutes", "The carpenter will reach your house at 3 pm."- We're quite acquainted with these sentences, right? Let's dig deep into the domains dominated by on-demand apps.
Food and Grocery
Movement restrictions and the nationwide lockdown-like situation has forced people to stay at home. This situation has made on-time delivery of groceries and other essential items at people's doorstep the need of the hour. The on-demand grocery delivery app can achieve this objective with ease.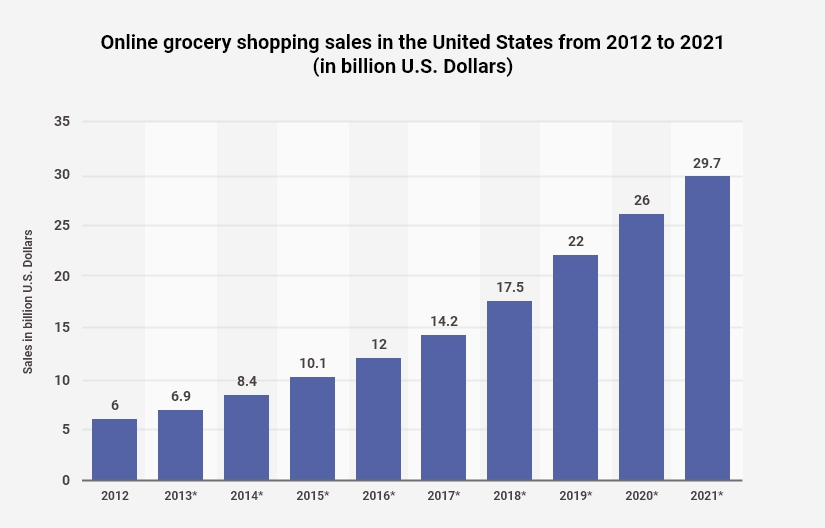 A Nielson survey has revealed that online grocery sales in 2019 were about 22 billion and it will cross $29 billion by 2021. GroceryDive has predicted that over 30 million users will use mobile apps for ordering groceries by the year 2022. These forecasts make us believe that even when people will gradually start their routine life once again, the popularity of on-demand food delivery app will not fade away.
Personal Transportation
Uber has paved the way for many startups who want to provide cab-hailing services using an on-demand taxi booking app. In recent years, such apps have witnessed tremendous growth. Real-time communication with drivers, feedback system, and other Hassle free & user-friendly features of cab-booking apps have won the heart of thousands of millions of customers worldwide.
Healthcare
The Doctor-on-demand app is just one example of doctor and medical apps that have saved the time and effort of many doctors and patients. The concepts of telemedicine and doctor appointment can be effectively implemented through an on-demand doctor app.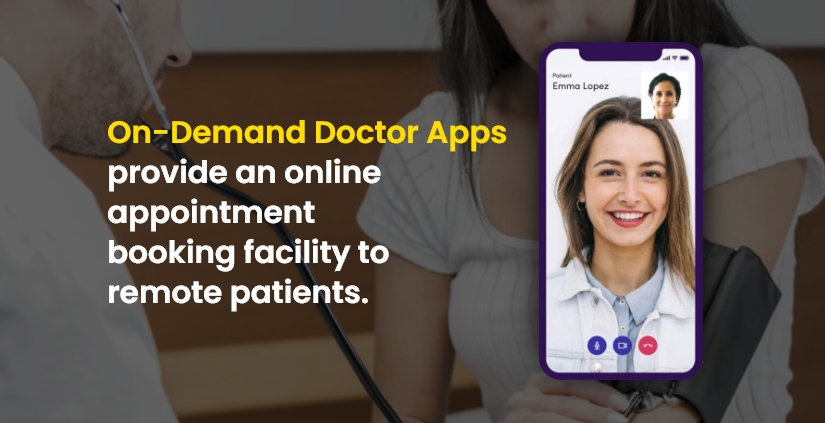 The on-demand apps facilitate doctors to examine patients even from remote places and prescribe medicines. Some on-demand medical apps provide healthcare and medical delivery services on a 24/7 basis which is a boon for patients.
Also Read- How Coronavirus Pandemic has boosted the delivery business worldwide
Home Services
This is one of the biggest beneficiaries of an on-demand economy. The home services segment has many opportunities and the on-demand delivery apps can effectively unleash them. Be it beauty, household services, wellness, plumbing, cleaning, home decor, or movers and packers, the on-demand home services delivery apps can manage various services with ease. People can order gifts and flowers through on-demand gift delivery apps.
Courier and Logistics
Logistics and courier delivery services providers can enhance customer experience and expand their services by bringing dedicated courier delivery apps. Such apps help transportation and logistics service providers automate processes and manage the delivery. These apps enable customers to book parcels anytime and anywhere. Uber Freight is an example of an on-demand logistics app. Apart from these sectors, retail and real estate sectors can also leverage the benefits of on-demand apps.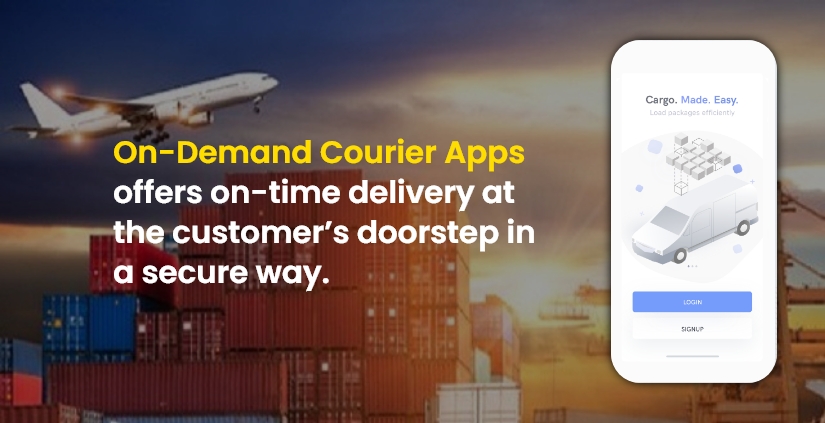 If you want to integrate on-demand apps in your business but do not know where to start, Solution analysts is a good place to start. At Solution Analysts, have crafted several on-demand apps for sectors like Restaurants, groceries, retail, real estate, and healthcare. Our in-house team of developers can help you come up with a seamlessly-performing on-demand grocery app in line with your business model. Just drop us a line in the inquiry form, and our experts will get back to you soon!