React native technology has gained immense attention from not only the tech world but it is not lacking to impress business owners. Recently, React native is widely spread and created buzz due to its advanced functionalities such as code reusability, third-party plugins support, and flexible architecture. 
If you are also planning to hire React native developers , so, this blog will help you to acquire all the important aspects that ensure to make the right decision for your React Native development services – 
What is React Native? 
Benefits of React Native 
Features of React Native 
Why should you hire React Native developers for your project?
How to hire React Native Developers for your project? 
Why should you Consider Solution Analysts for your React Native Project? 
So, let's discuss in depth – 
Overview: What is React Native ? 
"React Native is an open-source UI software framework created by Meta Platforms, Inc. It is used to develop applications for Android, Android TV, iOS, macOS, tvOS, Web, Windows and UWP by enabling developers to use the React framework along with native platform capabilities." 
Written in JavaScript, Java, C++, Objective-C, Python

Supports Platform – Android, Android TV, iOS, macOS, tvOS, Web, Windows, UWP, and VR

React Native is available for both Windows and macOS, which is currently maintained by Microsoft.
Market Growth of React Native – Important to know 
According to a 2022 developer survey report,  React Native has acquire  second number in cross-platform mobile framework used by global developers –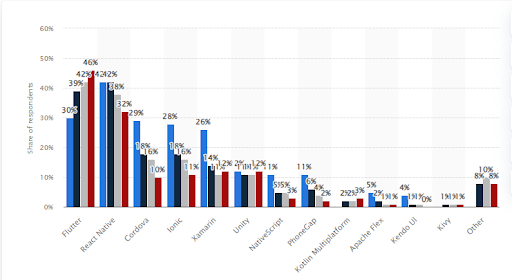 Image Source: Statista
In the further blog, let's discuss why React Native is the foremost choice of the mobile app developers. 
Major Reasons to Choose React Native for your next Project

1. Supports Cross Platform 
One of the major reasons to opt for the React Native mobile application is it supports cross platform mobile app development. 
With one source code developers can launch the solution on different platforms that majorly includes React native Android and iOS mobile applications .
2. Saves Development Time 
React Native supports cross platform development  that ensures to save huge time of launching the solution in the market. Hence, developers don't have to build different codes for several platforms.
Hire React Native developers, who can launch bug free, robust, secure solutions in the market with one single code.

3. Code Reusability
With React Native, you can reuse a significant portion of your code across different platforms.
 However, it results in faster development cycles and 
reduced maintenance efforts. Write once, deploy everywhere, to boost the speed partner with a mobile app development company. 
4. Native-like Performance
React native framework offers you an opportunity to leverage the benefits of native components such as highly responsive and performance in terms of speed. 
With React Native users can easily experience a smooth and seamless interface as compared to other native technologies. 
Features of React Native – What React Native offers?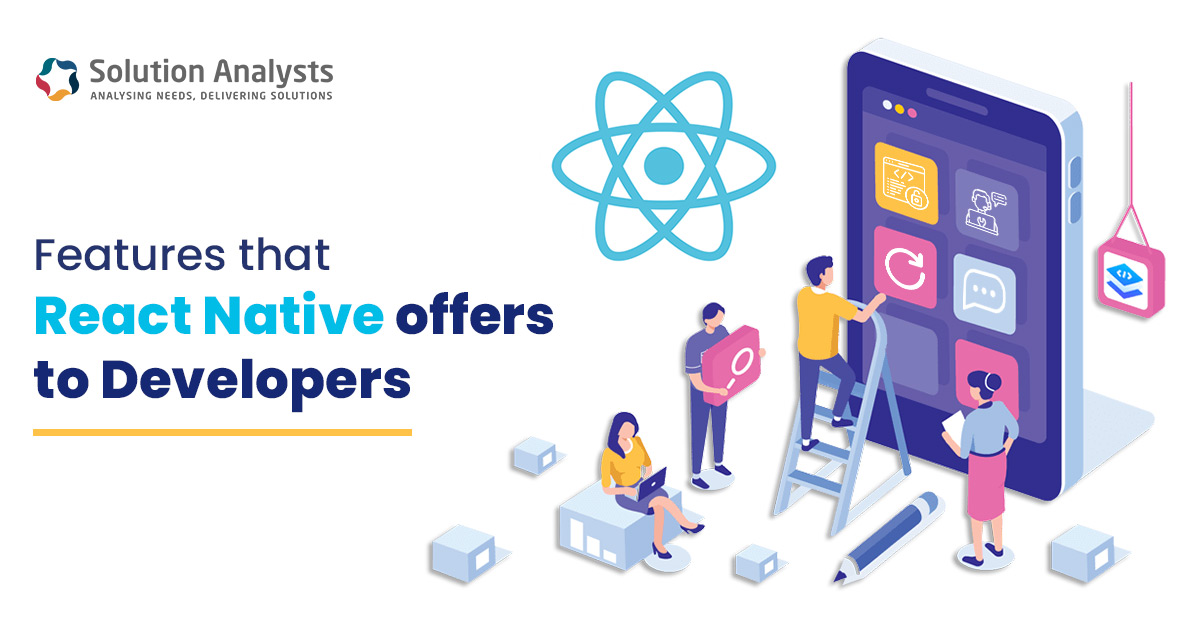 1. Open – Source 
The main feature of React Native is it is based on open source that allows developers to modify the code in terms of add, edit, and delete. With open source features, React native developers can use the code as per their preference. 
2. Live Reload 
The next major functionality of React Native that has gained immense attention of the tech world is, it supports live reloading. Developers can edit and make changes in the code at the same time. 
3. Support for Third-Party Libraries
React Native technology offers support for third party libraries. Henceforth, the third party helps to save development time and efforts. Hire mobile app developers to acquire all the major benefits. 
4. React Native Frameworks 
Another major reason to opt for the React native development is it offers the best React Native development framework for app development to the developers that streamline and boost the development process. 
Why should you hire React Native developers for your project?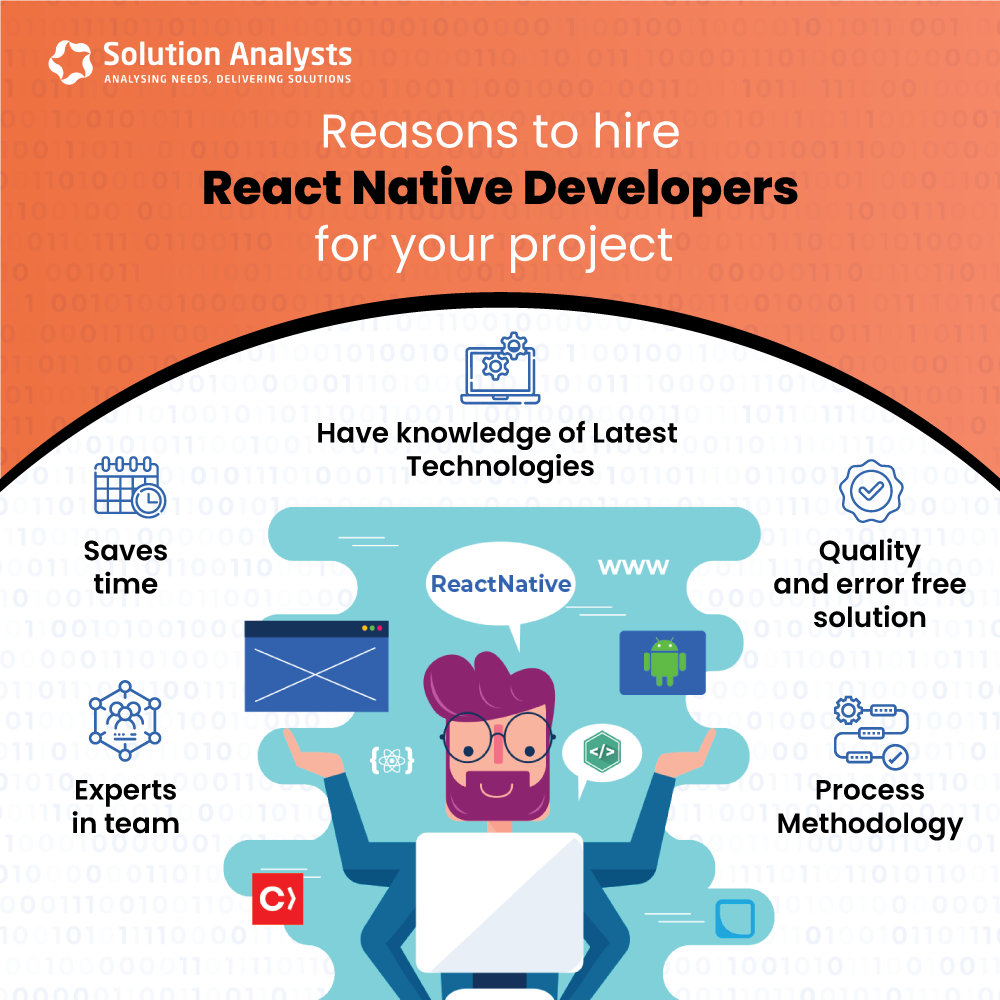 1. Experts in team 
React Native developers have in-depth knowledge and hold expertise with the specific functionalities that ensure to deliver the best results. React Native experienced developers can solve last minute complex challenges.

2. Saves time 
By having proficient React native developers in your project, it helps to save a huge amount of time. React Native coders have hands-on experience on different tools and technologies that ensures to make the right decision.

3. Have knowledge of Latest Technologies
The major benefit of having React Native experts in the team is that they have knowledge of the latest tools and technologies. In order to stay ahead in the market competition, React Native developers use to keep themselves updated with the latest market trends and tech trends that ensure to stay ahead in the competition. 
4. Quality and error free solution 
By hiring best React Native coders, you can launch quality and bug free solutions in the market. When a React Native expert will work on your powerful solution then it helps to exclude the possibilities of future failures and ensures to meet the latest  industry trends.  
5. Process Methodology 
React Native developers follow accurate process methodology for their project. They have in-depth knowledge and defined steps that lead them to successfully launch the solution in the market with less time period and minimum technical complexity issues. They have a full process that also ensures to avoid last minute failures. 
How to hire a React Native Developer ?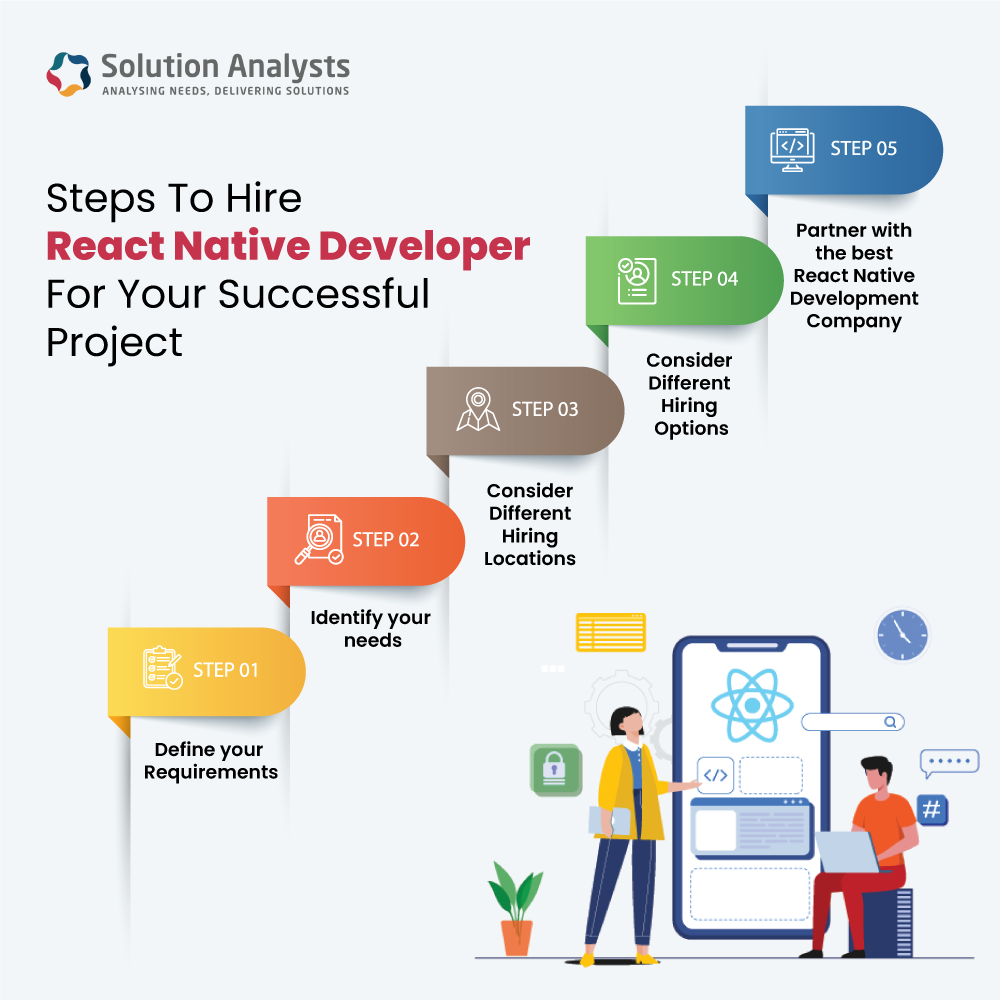 1. Define your Requirements 
Before hiring the React Native developers you should know your requirements. On the first stage only you should know what you want from your projects. 
How will it help your business? 

What segments want to target with mobile apps? 

Why do you want to launch the React Native mobile application in the market? 

What is your target audience 

In what time do you want your React Native mobile app to launch in the market?

2. Identify your needs 
When you are clear with your requirements, now it's time to know what you expect from your hiring resource, write your points on the paper and have clear goals that are your expectations.
Decide the platform 

Compatibility of your application 

Features that your want to integrate

 Budget you prefer to invest 
3. Consider Different Hiring Locations 
Once you finalise your needs, now it's time to make a wise decision. Yes, in this digital world, you should not forget that businesses are leveraging full benefits of advanced tools and technologies. Companies can hire developers from all over the world that leads to cost effective talent, saves time, and include experts in the team. 
4. Consider Different Hiring Options
Now, it's time to consider different hiring options that includes – 
Fixed Cost 

Dedicated Team Model

5. Partner with the best React Native Development Company 
Once you finalise your hiring model. Start looking for the best React Native development company for your project. But, partnering with the right React native development services is not an easier task. It requires a lot of research and right feedback.

When you hire react native app developers, make sure that developers should have experience, and have expertise with different projects. Along with this, focus on their soft skills such as – 
Time Management 

Communication 

Knowledge updations
Top Reasons why you should consider Solution Analysts as your partner for the next React Native project? 
1. Technical Expertise
Solution Analysts boasts a team of skilled and experienced React Native developers who possess deep technical knowledge. Their expertise ensures the development of high-quality, scalable, and efficient React Native applications that meet your project requirements.
2. Easy Communication Mode
Effective communication is crucial for a successful partnership Solution Analysts provide seamless communication channels, allowing you to stay connected with their team throughout the project. Their prompt and transparent communication ensures that your ideas and feedback are heard and incorporated effectively.
3. Expertise with Industry-Specific Solutions
Solution Analysts have extensive experience in various industries, enabling them to develop tailored solutions for specific business sectors. They understand the unique challenges and requirements of different industries and can provide valuable insights and solutions that align with your industry's best practices.
4. No Language Barrier
Solution Analysts offer language flexibility, ensuring that language barriers do not hinder effective communication. Their team is proficient in English, making it easy to convey your project requirements and collaborate seamlessly, regardless of your location.
5. Confidentiality of Details
Protecting the confidentiality of your project details and intellectual property is of utmost importance. Solution Analysts uphold strict confidentiality agreements and take necessary measures to ensure the security and privacy of your project information, giving you peace of mind.
6. Smooth UI/UX
User experience is a key factor in the success of any mobile application. Solution Analysts pay meticulous attention to the user interface and user experience design, ensuring that your React Native app delivers a seamless and intuitive experience to your target audience. They prioritise usability and aesthetics to create engaging and user-friendly interfaces.
Conclusion
By partnering with Solution Analysts for your next React Native project, you gain access to their technical expertise, seamless communication channels, industry-specific solutions, language flexibility, confidentiality measures, and a focus on delivering smooth UI/UX. These factors contribute to a successful collaboration and the development of a top-notch React Native application that meets your business goals and exceeds user expectations.