In the healthcare industry, mobile applications are gaining immense attention. Different mhealth based solutions have turned as the boon for the hospitals and clinics. Best examples of healthcare mobile app development services are telemedicine mobile apps, Diagnosis Assistant Apps, Medication Tracking Apps, and many more. 
Healthcare app development services help to unlock several opportunities such as improve doctor patient communication, streamline different management processes, and enhance medical quality. 
There are different types of healthcare mobile applications for Android and iOS. In order to leverage all the benefits of mobile app development services, partner with healthcare app development services. 
Moreover, in this blog, we have covered all about healthcare mobile applications with its benefits, features, and types.  
We have also listed the major steps of healthcare app development services that every hospital and clinic should know. 
What is a Healthcare Mobile App? 
The Healthcare mobile applications are also known as mhealth. The leading healthcare IT service provider design the solutions as per the specific healthcare needs. Healthcare mobile app developers understand the requirements and build solutions that reduce doctor patient gaps and encourage people for healthy lifestyles. 
Mobile app developers focus on integrating next generation features that help overcome different healthcare challenges of hospitals and clinics. 
Growth of Healthcare Mobile Apps – Why should you opt for healthcare apps for your business? 
According to the famous grandviewresearch survey platform, "The global mHealth apps market size was valued at USD 43.5 billion in 2022 and is expected to expand at a compound annual growth rate (CAGR) of 11.6% from 2023 to 2030."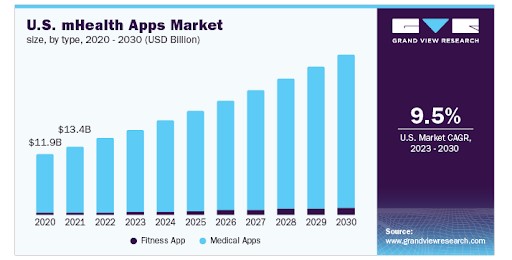 According to Statista,eHealth Apps – Worldwide – 
" Revenue is expected to show an annual growth rate (CAGR 2023-2027) of 13.00%, resulting in a projected market volume of US$3.00bn by 2027." 
Benefits of Healthcare Applications Development 
How Healthcare Mobile Application  is Beneficial for Businesses? 

With manual operations or relying on the staff to get the outcomes for the next medical treatment can lead to a time consuming process. Smart healthcare mobile apps allow doctors and professionals to make their decisions on their fingertips via Smartphones. 

Healthcare mobile apps act as a bridge between patients and doctors. With mobile apps, the communication process is now better than ever before. Doctors, patients, and other assistants can easily communicate with each other on their smartphones. This makes the medical treatment more accessible and improves the healthcare quality process. 
Streamline Operational Processes 
With custom healthcare mobile applications, different processes such as data management, diagnosing diseases, and appointment booking process turn into more reliable and accurate methods. 
How can Healthcare Apps Improve Patient Engagement? 
Healthcare mobile applications such as Telemedicine app development services are the boon for the patients. It allows patients to connect with doctors remotely that helps to save huge amounts of time and medical treatments can be accessible from anywhere and at any time. Doctors and patients aren't required to be present in real time. 
Mobile applications for healthcare help to improve communication between doctors and patients. Users can access the voice enabled feature and video conferencing integration that makes the communication process better that excludes all the miscommunication. 
On-demand Accessible Care
Other benefits that patients can leverage with secure healthcare mobile apps Android and iOS can opt for instant medical services. Patients can instantly connect with doctors as well as order their drugs or prescriptions. 

By tracking the real time data and monitoring health status on a constant basis encourage users to be more active. With next generation healthcare mobile applications and wearable devices, patients can take care of their health. 
Latest Trending Solutions that are ruling the Healthcare industry –  WATCH OUT 
Here we are listing the modern healthcare solutions that hospitals, pharmacy, and clinics should know – 
1) Telemedicine Mobile Applications 
Telemedicine mobile apps are the trending healthcare solutions. It acts as a bridge between patients and doctors. Telemedicine app development solutions are considered as a new method of connecting doctors and patients in a virtual way. 
According to Fortune Business Insights,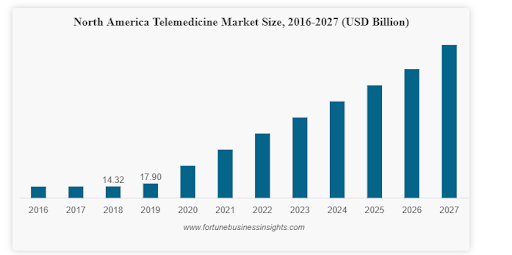 Growth of Telemedicine  – MARKET SIZE 
Why are Telemedicine Mobile Applications in high demand? 
Faster access to the doctor 

Allow virtual treatment 

Medical access to remote areas

Save time and infrastructure cost of doctors

Increase Convenience

Enhance Patient involvement 
2) Online Appointment Booking Applications 
After Telemedicine, online appointment booking portals are the need of hospitals and clinics. Booking appointments with specialists, surgeons are the major challenge for the patient as well as time consuming tasks for businesses.
Traditionally, patients have to wait in long lines but gradually, telephones played a major role but it was also not a saviour. But, now with online booking appointment software patients can book their appointments easily and exclude miscommunication as well as streamline the process with automation. 
According to Market Data Forecast, 
" The global medical scheduling software market size is forecasted to value USD 839.5 million by 2028 from USD 442.4 million in 2023, growing at a CAGR OF 13.76% during the forecast period."
Benefits of Medical Appointment Booking Portals
Hassle Free Management 

Make Process Faster

Streamline Different Processes 

Increase Transparency 

Easy Appointment Bookings

Saves time 

Exclude paper management 

Automated Services 

Enhanced security 
3) Electronic Health Records Apps / EHR 
Electronic health records refers to the online version of a patient's report cards. EHR software allows patients and doctors to preview the patient centred records in real time. Moreover,  they can instantly preview the data and secure records with authorization.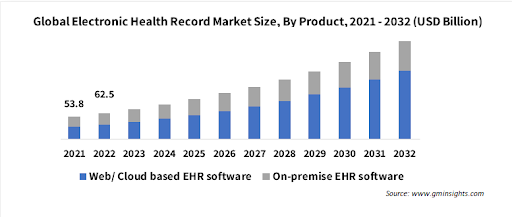 Source: gminsights. Com 
Benefits of Electronic Health Records Apps / EHR
Easy access to data

Order management 

Increase communication 

Active patient engagement 

Streamline administrative process 
4) Remote Monitoring Apps
Remote monitoring apps allow you to monitor health conditions of patients from anywhere and at any time.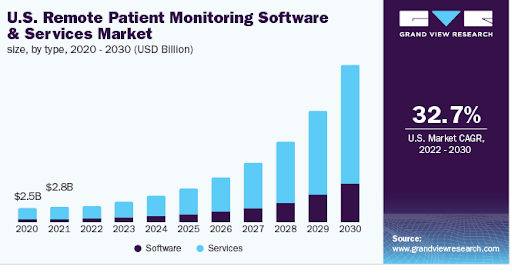 Source: Grand View Search 
Major Healthcare App Development Trends in 2023 
There are major healthcare mobile application development trends in 2023 that will turn as the future of the healthcare app mobile applications- 
1. Smart Chatbots 
Intelligent bots that are powered by AI have gained immense attention from the users. Chatbots are trained to act  as a human and reply instantly to the queries of the users. In healthcare mobile applications smart integration chatbots ensure to save time and increase user experience.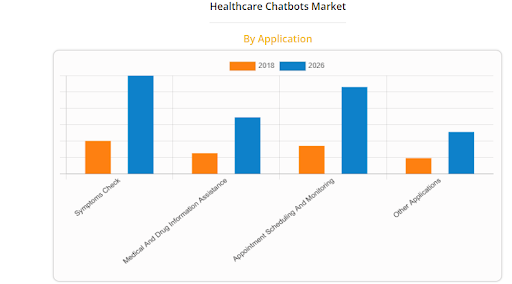 Growth of Chatbots in Healthcare apps
Chatbots can instantly respond to the users to all their health related queries. Henceforth, it excludes all the repetition tasks from the process. 
2. Wearable Technology Integration 
The emergence of wearable technologies is the next major notable healthcare development trend. Different healthcare wearable can integrate with the powerful mobile applications for Android and iOS. Healthcare wearable devices ensure to monitor health data and users can track or manage it via their applications. 
With wearable integrated technologies, users can monitor heart rate, sleep, and their blood pressures that helps to make informed decisions, track lifestyle, and maintain diet also on a constant basis. 
In healthcare mobile applications, mobile app developers can integrate functionalities such as sending reminders for medications and track different daily routine based activities. 


3. Efficient Data Management 
Data has always been a major concern for all industries. But for healthcare, data should be managed appropriately and there is no conflict. 
With Cloud computing services hospitals, clinics, and pharmacies can efficiently manage data and streamline collaboration processes. It helps to collect, store, and organise all the records and information and keep them securely. 
4. Multiple and Secure Payment Method
In healthcare mobile app development, app developers can integrate different payment methods such as customised mobile wallets or integrate third party platforms via API such as Stripe, PayPal and Gocardless. 
It allows users to opt for the hassle free payments and secure payment methods. 
5. Video Conferencing 
Video conferencing  allows users to interact in real time. Along with this, patients and doctors can communicate with each other instantly. It helps in convenience and exclude unnecessary travel that leads to saving time as well as effort. 
6. Push Notifications 
Push notification functionality is dominating the development industry. It helps medical businesses to maintain connection with their clients. Push notifications send alerts to the users in the form of pop up. Healthcare providers can attract the users attention with different rewards and deals. 
Modern Features to Integrate in Healthcare Mobile Applications 
Here, we are listing the modern functionalities of healthcare apps that are known as the future of healthcare apps
1) Payment by Blockchain
2) Real time Analysation by VR
3) Personalised update by AI
Steps to build Healthcare Mobile App Development 
Here are the steps to build healthcare mobile app for business 
The foremost step is to decide your healthcare mobile app idea. In the first phase only, it is important that you have clearance on  your goals. 
Once you finalise your idea, it's time to research the market. In order to meet customer expectations and objectives, it is important to have an idea of what is going on in the industry. 
Specific Platform and Technologies
Now, it's finally time to decide on the specific platform on which you need to deploy your services that includes Android, iOS, and web. 
For healthcare app development services medical providers can opt for native as well as hybrid platforms. 
Moreover, a wide range of healthcare mobile app development technologies have emerged in the industry. It is important to choose one that fits your requirements. Partner with the mobile app development company to make the right tech stack decisions and leverage the benefits of the advanced technologies. 
User interface is an important part of mobile applications. Healthcare mobile app developers should be able to connect users with the brand idea. 
Along with this, it is important to know the designing trends that includes colour, fonts, animation, and many more. Designers should make sure that the design should be highly interactive and engaging. 
Once the healthcare mobile application is ready to deploy. Next major thing is to test the application. Testing is an important factor but many companies miss out. 
Testing applications makes the apps bug free and allows developers to detect the issues and fix them immediately. 
After testing finally it's time to deploy healthcare mobile applications on the specific platforms that includes Android, iOS, and web. At the time of healthcare app development,  deployment should be as per the specific platform guidelines. 
Once healthcare mobile applications are deployed on several platforms. It is time to launch your app in the market and introduce it to your users. 
Challenge in Healthcare Mobile App Development 
When you have your steps to build healthcare mobile application, there are different challenges in that medical app developers mostly face – 
Integrate different compliance with law 

Lack of security 

Healthcare app maintenance on constant basis 

Interoperability on all platforms 
Healthcare Mobile App Development Cost 
The most common question before providing a requirement of healthcare mobile app development cost. There is no fixed cost for healthcare mobile app development. It varies from project to project, and several other factors. It is important to only discuss your project requirements with experts 
Check out our recent work – Kaa-Yaa
Different Factors on Healthcare App Development Cost Varies 
There are several factors on that healthcare app development cost varies and we are listing them here – 
Features and Functionalities 
Features and functionalities help to enhance user experience. With features healthcare providers offer an opportunity to the users to access more services. But here the cost factor varies, the additional features healthcare companies integrate the price add ons. 
Other than features, it is important to check your hiring model. As per the market standard.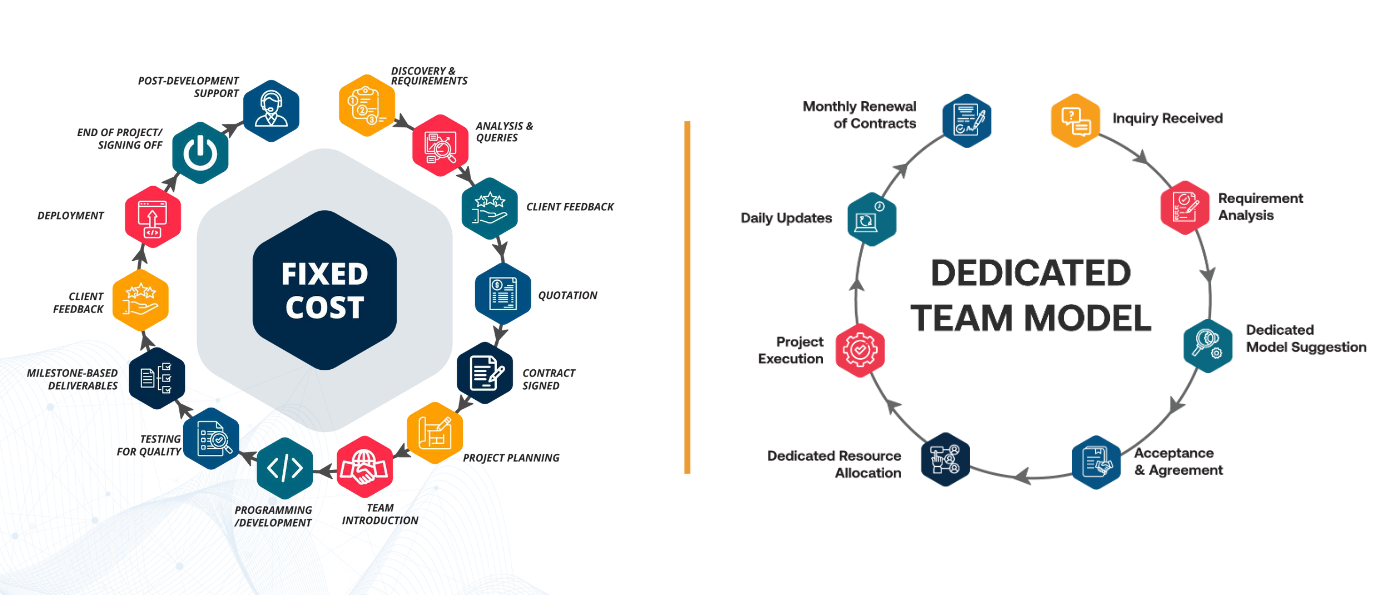 As per the hiring model you choose, it will vary the cost of the healthcare app development. 
Security is the major concern of all organisations. In the healthcare app development process, programmers focus on the security factors to protect all the data and information. 
Many strong security practices are introduced such as using strong passwords, two factor verification, non-default passwords, and many more. 
Healthcare app developers should focus on end to end  security practices that ensure to prevent data from vulnerabilities to malware attacks. 
Partner with Healthcare App Development Company 
In order to launch a successful healthcare mobile application, it is important to partner with a leading healthcare app development company. It offers you an opportunity to unlock several industry challenges and choose the right tech stack that will ensure to meet customer expectations and meet business goals in budget. 
App maintenance service is the other factor on which the cost varies. Only app development is not sufficient, it is important to maintain the application on a constant basis to update features and detect bugs and other issues that allow solutions to deliver high performance. 
Technologies We Use In Healthcare App  Development 
We have specialised developers and are proficient with the specific platform Android and iOS. Our healthcare mobile app developers have expertise with modern programming languages such as Kotlin and Swift. Along with this, we keep ourselves updated with the latest trends and technologies. 
How Solution Analysts Help You in Delivering Successfully Healthcare Mobile Apps? 
Solution Analysts is counted among one of the leading digital transformation service providers. We have delivered a wide range of healthcare mobile applications that includes telemedicine mobile applications, tracking health status, and many more. Along with this, proudly we share we also integrate standard compliance such as HIPAA and different regulations. 
FAQ's
What are the different healthcare mobile applications that have marked their presence in the market? 
Which are the trending technologies for healthcare mobile app development? 
The trending technologies  for healthcare mobile app development  Flutter, Swift, Kotlin, and many more. Our team is experienced with the latest trends and technologies that are introduced in the market. 
What is the healthcare app development cost? 
There is no fixed healthcare mobile app development cost. The cost varies as per your project needs. 
Which are the famous Healthcare mobile applications? 
Epocrates

Teladoc

EyecareLive

Doctor on demand