A siloed system with separate departments for development and IT operations brings multiple challenges to the company. It not only prevents workflows from getting streamlined but also reduces the productivity and profitability of your company. Here, DevOps comes into the picture. It brings development and operation processes together and ensures a reduction in the system development life cycle. 
Simply put, DevOps is a set of practices that combines development (Dev) and information technology operations (Ops) for providing continuous delivery while maintaining high quality. In this article, we are going to discuss the top reasons why your company should hire dedicated DevOps engineers and some tips to keep in mind for hiring the most suitable DevOps professionals for your project. 
Let's start from scratch and have a glimpse of the importance of DevOps.
Importance of DevOps
When it comes to the swift and seamless development of new products, DevOps services always remain handy. As a holistic organizational approach, DevOps also contributes to maintaining existing deployments effectively. It promotes shorter and more manageable iterations by combining best practices, automation, and advanced tools. The initial stages of DevOps include Continuous Integration and Continuous Delivery (CI/CD) and real-time monitoring. 
Software-driven innovation, microservices-based architectures, agile methodology, and collaborative processes are some of the driving forces for increasing the DevOps adoption rate. It can maximize efficiency by automating several processes and optimizing the workflow. DevOps has a vital role to play in improving the speed and stability of software development and deployment while focusing on resources.  
A DevOps engineer can assist you to make the most of the DevOps initiative. 
What is a DevOps Engineer?
The DevOps approach involves many responsibilities across different departments. A DevOps engineer can handle all these responsibilities while collaborating efficiently. A DevOps engineer has experience with both development and operations processes and should be able to communicate across different departments. In brief, a DevOps engineer automates infrastructure-related tasks via IaC or Python scripting. 
Why Should You Hire a DevOps Engineer?
Let's understand this through an example. Suppose a software development company has a project of building a web application or a digital product. It requires multiple environments and services. In such a scenario, whether the company wants to increase productivity or scale up the capability of a web application while distributing services effectively, a dedicated DevOps engineer can help the company. 
A DevOps engineer has skills in IaC, automation, CI/CD, and cloud computing. Here are the other important skills that a DevOps engineer should have for handling the project.

Also read: Your Comprehensive Guide to Challenges and Benefits of DevOps
Skills You Should Look for in Right DevOps Engineers
Most DevOps engineers should also be cloud engineers and Linux administrators. Their primary roles include focusing on on-premise servers and site reliability. Here are the top skills necessary for any DevOps engineer. 
Insight of Open-source Services

Knowledge of Protocols

Experience in AWS

Knowledge of CI/CD Pipelines and Toolchain

Linux Administration

Basic Understanding of IaC tools

Experience in Troubleshoot Servers

Knowledge of Python scripting

Ability to Deploy and Launch Web App Stack

Knowledge of Amazon ECS 

Proficiency in Docker and Microservices

Basic Knowledge of Database Management
Apart from these skills, the DevOps engineer should have basic knowledge of AWS security, Linux security, and monitoring skills in at least one of these tools- Amazon Cloudwatch, Nagios, Grafana, DataDog, Zabbix, and Prometheus. Kubernetes clustering, 12-factor methodology, security compliance, multi-tenant architecture, and basic DevSecOps experience are some advanced skills that can give an additional advantage to a DevOps engineer.

Talking about the soft skills of a DevOps engineer, teamwork, good communication, leadership, and adaptability are some of the most sought-after skills. 
Top Tips for Hiring Top DevOps Engineers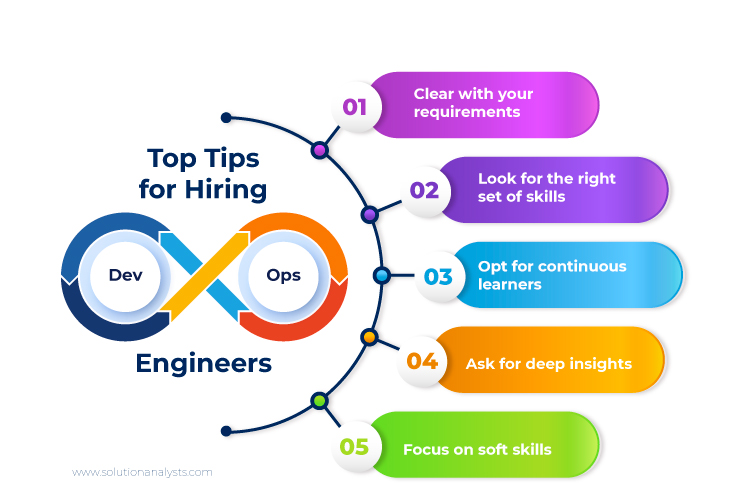 Here are the top tips and practices for hiring the right DevOps engineer for your upcoming projects for leveraging the benefits of technology. 
1. Clear with your requirements
DevOps is neither a process nor a team. It is basically an approach that brings higher agility and success to your business. It encompasses the development, testing, deployment, maintenance, and security of software along with system administration. Therefore, it is imperative to remain clear with all DevOps project needs.  You can set SMART business goals and identify the skill gaps in your company. Also, you need to define the roles, responsibilities, and technologies for your project. 
2. Look for the right set of skills
DevOps engineers need to work in tandem with other teams to solve complex problems and build digital products. Therefore, a troubleshooting approach and necessary technical insights are of the utmost importance. It is always better to check previous projects of DevOps developers before hiring them. Skill assessment is also a better idea before hiring because it can give the right information for selecting the developers. 
3. Opt for continuous learners
DevOps is a continuous approach and requires a learning aptitude. The DevOps developers, you want to select should remain updated with new announcements, innovative tools, methodologies, and frameworks. The habit of continuous learning can help solve complex challenges and you can get a proper solution from DevOps professionals. 
4. Ask for deep insights
A basic understanding is not enough for resolving development or deployment-related issues faster. Therefore, DevOps professionals should have insights into all the necessary aspects along with strong fundamental knowledge. You need DevOps engineers with particular domain expertise or niche specialization in line with the project and business requirements. 
5. Focus on soft skills 
The ability to work in a team, good communication skills, thinking out of the box and analytical reasoning are some of the top soft skills that are desired in DevOps developers. Both technical expertise and soft skills are necessary to accomplish the project seamlessly. 
How Much Does it Cost to Hire a DevOps Engineer?
The hiring cost of DevOps engineers has great variation based on multiple factors including the complexity and duration of the project, regions, and the number of DevOps engineers to be hired. It is fair to mention that DevOps engineers in the USA have higher rates than those engineers in other countries with similar knowledge and the same role. It is better to consult a reputed and experienced DevOps services provider to get your project done at reasonable rates. 
Concluding Lines
An optimal DevOps team can manage and organize your projects effectively. You can generate value while delivering the best results over the period. Hope this detailed guide will help you find the right team of DevOps professionals for your upcoming project. At Solution Analysts, we strive to meet the diverse and complex business needs of a global corporate clientele with an in-house team of experienced DevOps professionals and cutting-edge tools.