As a domain that is heavily reliant on data management, security, and trust, blockchain can completely change how insurance is conducted, from policy issuance and underwriting to claims processing and fraud detection. Owing to the distributed ledger technology of the blockchain insurance sector can see increased efficiency, reduced costs, and enhanced transparency. Moreover, Blockchain also offers a secure and trustworthy environment for insurers and their customers. 
According to Gartner Blockchain technology is anticipated to generate $3.1 Billion by 2030. 
Let's move ahead to unravel the potential of blockchain in transforming the insurance sector. 
How Blockchain Technology Works? 
Blockchain technology involves digital data that is comprised of three elements. The first element comprises recorded data relating to transactions such as purchase date, time, and amount. The second element includes recorded data on the identities of the participants involved in those transactions. The third element comprises recorded data that serves to differentiate each block from all other blocks.
During a transaction, the following process takes place:
Generating a new block to represent the transaction

Verifying the block through all participants of the network

Linking a cryptocurrency or another signifier to the block

Adding the block to the existing chain

Updating the network to finalize the transaction
Why Blockchain for Insurance Industry is Important?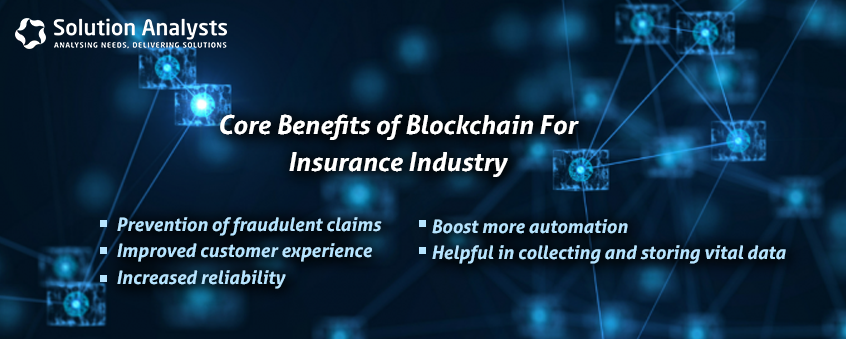 There are many activities within the insurance sector that are outdated. Some of the policies are still carried out on paper which increases the scope of error and time-consumption of operations. Such human errors and misuse could even lead to tampering, misinterpreting, and losing valuable information. 
Hence, blockchain has a big role in enhancing security, efficiency, and customer satisfaction for insurance companies. 
The insurance industry is moving towards open data systems, which are public and technologically advanced. As a result, blockchain technology in insurance sector is becoming increasingly important. They have the potential to completely automate insurance company operations, enable dynamic pricing of risk, allow for the retention and release of assets based on specified circumstances, and even create new industries.
Blockchain has the potential to give a boost to peer-to-peer insurance which can lead to the reduction of intermediaries. This means that customers would only need to rely on technologically enabled transactions to achieve financial freedom, without the need for insurance brokers.
Blockchain technology could benefit many incumbents with competitive disadvantages, such as limited customer involvement, sluggish growth in existing enterprises, and digitization trends. The automation of key processes through insurance application cases could enable growth, enhance effectiveness, and save expenses.

Some of the core benefits of blockchain for insurance industry are:
Prevention of fraudulent claims 

Improved customer experience 

Increased reliability

Boost more automation

Helpful in collecting and storing vital data
How the above benefits work, let's understand more about it with use cases of blockchain for insurance industry.
Also Read : How To Build A Peer-To-Peer Payment App: Comprehensive Guide
Use Cases of Blockchain for Insurance Industry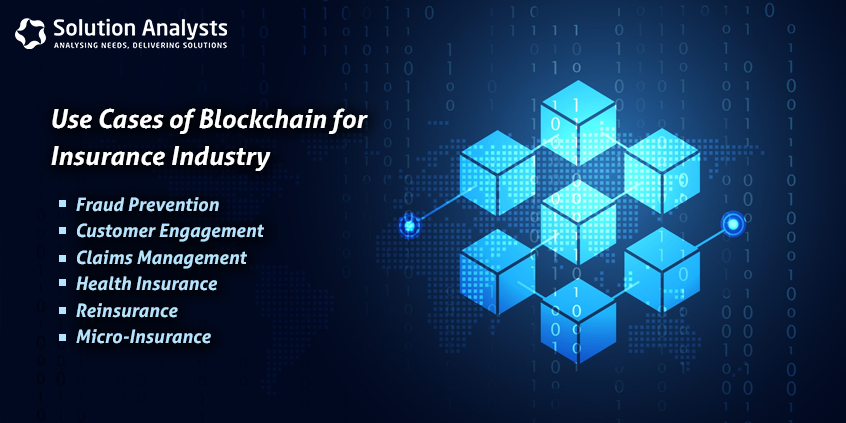 Blockchain technology offers a range of opportunities for the insurance industry to improve efficiency, reduce costs, save time, improve transparency, comply with regulations, enhance the customer experience, and build better products and markets. 
Here are the top use case of Blockchain for insurance industry
Owing to the immutability feature of the blockchain-based ledger, there are minimal chances of fraud. Hence, there is no risk for insurance companies to move into a blockchain-powered ledger. 
In addition, blockchain facilitates seamless coordination among insurers. In case when insurers access the same shared blockchain ledger, they can instantly know if a specific claim has been paid. It is easy for insurers to identify suspicious behavior quickly by using historical claims information. 
Further blockchain can also resolve the challenges that arise from the detection of fraud using publically available data and information from private companies. The solution with blockchain is that since it is paired with cryptography for securing data, it is easier to share information with insurers without revealing sensitive, and personally identifiable information. Hence, that's the reason most insurance companies are preferring Blockchain app development services for a streamlined operation. 
Insurance companies often struggle to collect accurate data due to the hesitation of customers to share sensitive information with their agents. However, it is understandable as people always want to protect their privacy. This is where blockchain technology comes to play as it can be helpful in such situations.
By providing a secure and reliable system for managing personal data, blockchain offers greater control and privacy protection for clients. It allows customers to share their sensitive information securely through a smart contract-based Know Your Customer (KYC) data service.
This approach makes it easier to obtain identity information and use it for verification purposes across different companies, ensuring that the data remains safe and secure. 
Claim management usually takes a lot of time and effort from both companies and customers. For instance, in the case of a car accident, the damages that happened to it go through a detailed investigation of a claim. It further includes coordinating with the driver's insurance company to recover losses and managing the payout process. However, this process could result in duplication of work, delays, and human errors, causing inconvenience and delays in payment.
In another scenario, if insurance claims were processed on a blockchain, all involved parties, such as insurers, reinsurers, brokers, and other stakeholders, could access and share the same information, which reduces the risk of work duplication and the disputes.
Blockchain-based smart contracts can implement claims processing actions, facilitates seamless information transfer among insurers and other parties, enable prompt payment of claims to policyholders, and gives rise to decentralized insurance. 

Blockchain technology can facilitate faster processing of health insurance claims and lower costs for customers. By allowing secure, accurate, and quick sharing of medical data between healthcare providers and insurers, blockchain can streamline the health insurance claims process which hugely benefits patients.
Sharing patient data among hospitals and health insurance providers while adhering to privacy laws can be a complex and costly process. Furthermore, the absence of data can result in the denial of claims.
However, when encrypted patient records are placed on a blockchain, healthcare providers and insurers can access the medical data without compromising patient confidentiality.
Such a synchronized database of patient data can save a substantial amount of amount to the healthcare industry while ensuring patient privacy, as the blockchain can store cryptographic signatures for each medical record. Moreover, altering a patient's medical record on the blockchain would be impossible without leaving an audit trail.



Sharing data between insurers and reinsurers can be a complex and time-consuming process that requires duplicate manual work. However, blockchain technology can streamline complication processes and information flows which is advantageous for both insurers and reinsurers.
Reinsurers provide insurance to insurance companies, which saves insurers from significant losses in cases of multiple claims. 
The primary issue with the current reinsurance process is that it is inefficient, lengthy, and manual, often based on one-off contracts.
Insurance companies often engage multiple reinsurers for the same risk, resulting in the need to share data among many companies to settle claims.
However, by sharing a blockchain ledger, data related to policies, premiums, and losses can simultaneously exist on both insurers' and reinsurers' systems, hence, eliminating the need for reconciliation. This can save time and money, and reinsurers can also automate claims processing and settlement.
Micro-insurance schemes may appear unfeasible due to labor-intensive administrative processes and high fees for small payments. However, blockchain technology can automate underwriting and claims handling according to defined rules for micro-insurance schemes within current emerging markets. This makes it easier to facilitate payouts to insured farmers.
Wrapping Up
The impact of blockchain technology on the insurance industry is huge. By providing a secure, transparent, and immutable way of recording transactions, blockchain has the potential to transform the insurance industry into a more efficient and customer-centric sector. From smart contracts to claims management and fraud detection, blockchain can streamline insurance processes and reduce costs, while also enhancing trust and accountability. As blockchain adoption continues to grow, expecting more innovative applications of this technology in the insurance industry, would not be wrong as it further improves the experience for both customers and insurers.
Solution Analysts is a leading Blockchain App Development coampny in USA that aims to enable seamless data exchange and workflow automation. We offer smart and reliable blockchain development services to drive operational agility with trust. Overall, our services of blockchain for insurance industry optimize the efficiency, security, and transparency of core operations.