Mobile apps play a vital role in our fast-paced digital world. To succeed in 2023, developers need effective strategies for app development. There are 12 proven mobile app development strategies by Solution Analysts that can help developers create successful apps and provide exceptional user experiences.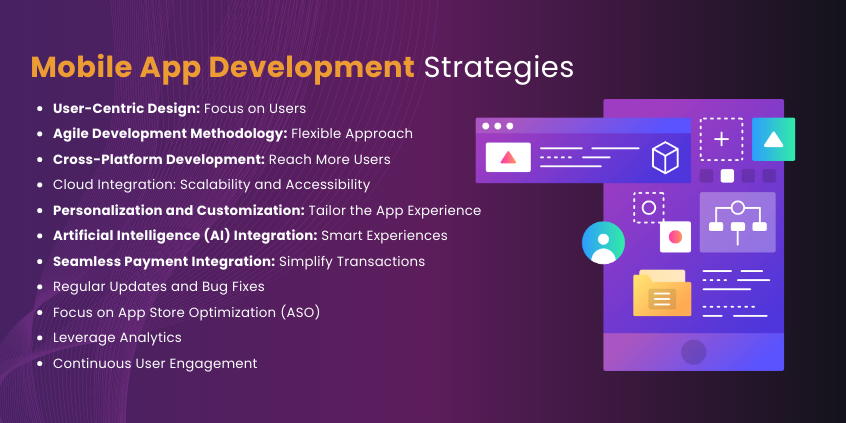 User-Centric Design: Focus on Users
A user-centric design approach focuses on creating intuitive and visually appealing interfaces that enhance user experience. Conduct thorough research to understand your target audience and their preferences. Incorporate user feedback and conduct usability tests to refine your app's design.
Agile Development Methodology: Flexible Approach
Adopt an agile development approach, breaking down development into smaller sprints. This allows for quick adaptation, user feedback, and continuous improvement.
Cross-Platform Development: Reach More Users
Develop apps using frameworks like React Native or Flutter to run smoothly on iOS and Android. Save time and ensure wider reach with consistent experiences across devices.
Cloud Integration: Scalability and Accessibility
Integrate cloud services like AWS or Google Cloud to enhance scalability, data storage, and accessibility. Optimise app performance, sync data, and provide seamless updates.
Personalization and Customization: Tailor the App Experience
Allow users to customise settings and preferences to deliver personalised experiences. Boost engagement, loyalty, and retention with tailored content recommendations.
Artificial Intelligence (AI) Integration: Smart Experiences
Utilise AI & ML and natural language processing to create smart and contextual experiences. Enhance functionality with features like voice assistants and personalised recommendations.
Seamless Payment Integration: Simplify Transactions
Integrate popular payment gateways for smooth and secure transactions. Simplify the checkout process to reduce friction and improve conversions.

Regular Updates and Bug Fixes:
Continuously updating your app with new features and bug fixes is vital for maintaining user engagement. Monitor user feedback, track app performance, and release regular updates to address issues, introduce improvements, and provide new functionalities.

Focus on App Store Optimization (ASO):
To increase app visibility and downloads, invest in effective app store optimization strategies. Research keywords, optimize your app's title and description, utilize appealing visuals, and encourage positive user reviews to improve your app's ranking in app stores.
Leverage Analytics:
Implement robust analytics tools to gather valuable user data and insights. Analyze user behavior, track key metrics, and identify areas for improvement. Data-driven decision-making can help you refine your app's features, improve engagement, and drive business growth.
Continuous User Engagement:
Engage users even when they are not actively using your app. Implement push notifications, in-app messaging, and personalized offers to keep users informed, encourage app usage, and foster long-term loyalty.
Conclusion
To succeed in the evolving app market in 2023, Solution Analysts Pvt Ltd. prioritised user-centric design, adopted an agile approach and ensured cross-platform compatibility. Leverage cloud services, personalization, AI integration, and seamless payment solutions to enhance user experiences. By implementing these effective strategies, developers can create innovative apps that meet user needs and stand out in the competitive landscape.